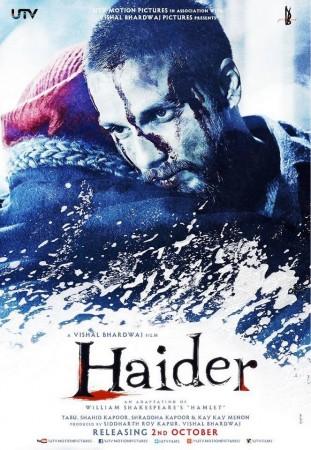 Shahid Kapoor's "Haider", which was released along with Hrithik Roshan's "Bang Bang" has maintained a steady hold at the box office.
While "Bang Bang" witnessed almost 20% drop in its collection, "Haider" remained steady. In fact, despite being a partial holiday, "Haider" fared better on third day compared to the first.
In three days, "Haider" has taken its domestic total to ₹19.45 crore.
On Thursday, the film minted ₹6.14 crore, Friday ₹6.92 crore and Saturday ₹6.38 crore.
Vishal Bhardwaj's directorial film is surviving at the box office mostly due to strong reviews. The film will earn its production cost by Sunday, as the collection is expected to show upward trend.
"The film witnessed a huge jump in most of the regions, including Gujarat, Punjab, Rajasthan," a source from the production team, UTV Motion Pictures, told IANS.
Trade experts believe that the film's business will grow further in the coming days.
"It has performed really well. The film did pretty well on the first day and I believe it has only become better. The liking for the film is not only limited to single screens as the film is getting a good response from multiplex audience as well. The response for the film at our cinema chain is really good," said Deepak Sharma, chief operating officer, PVR Pictures.
Industry experts initially said the film will target only the niche audience at multiplexes, but with strong performances from lead actors and cinematography, the film is now pulling the crown in single screens as well.
"Word of mouth publicity is working for the film. I would say that the audience is not only appreciating the film because of the publicity, but due to genuine liking towards the movie," Sharma added.
"Haider" helmed by Bhardwaj also features Tabu, Irrfan Khan, Kay Kay Menon and Shraddha Kapoor in the important roles.