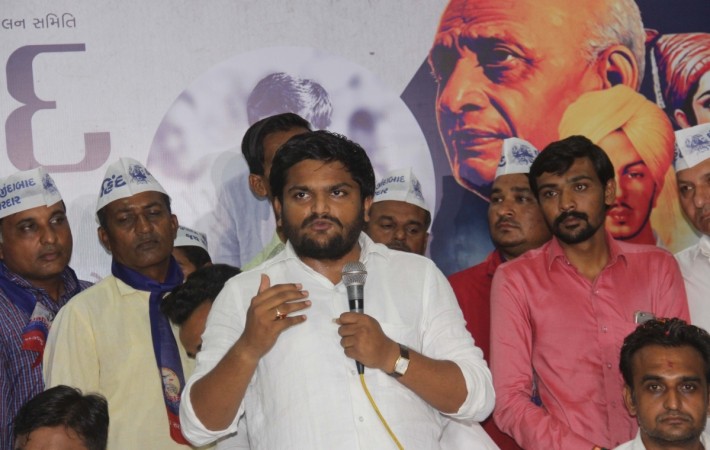 Days after the Patidar agitation leader, Hardik Patel had expressed his satisfaction over the assurance given by Congress in reserving seats in education and government jobs for the Patels, some supporters have reportedly given a 24-hour deadline for the Congress to make its stand clear in the context of quota demanded and how many seats the party would allot to supporters of the Patidar Anamat Andolan Samiti in next month's Assembly polls in Gujarat.
PAAS has been demanding around 30 seats for their candidates in the 2017 Gujarat Assembly elections. But the Congress feels it is a steep price to pay for the support of the 24-year-old leader and his organisation and is bargaining for lesser seats.
Dinesh Bambhania who arrived in Delhi on Friday along with few other Patidar members, said that they have been invited by the Congress to discuss reservation for the Patidars. But Banbhania seemed miffed that they have been kept waiting the entire day at Gujarat Bhawan, in the capital.
Bmbhania was further quoted by NDTV as saying, "Now we have given a 24-hour ultimatum to the Congress. If you don't accept our demand, then we will assume that you don't need support in the next election."
The Congress has also not announced its list for the Gujarat Assembly polls due to the on-going talks with Patidar leaders, even as the Central Election Committee of the party chaired by its chief Sonia Gandhi held deliberations for the second time on Friday.
Meanwhile, the Congress appears in a dilemma. If it goes ahead and allots too many seats to Hardik's nominees, there are chances that its own leaders will desert the party in the crucial state. Another possibility is that the PAAS nominees may win many seats leaving the Congress too dependent on them.
Also the Patidar agitation leader has been surrounded with controversies of alleged sex tapes off late. This is likey to be a reason for Congress to rethink its strategy with regards to the PAAS and its leader.