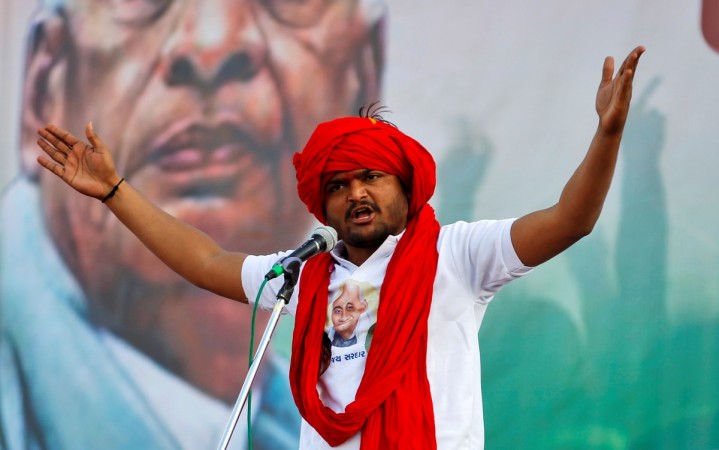 It looks like Patidar quota agitation leader Hardik Patel's nightmare has come true. A few days ago, Patel had said that the Bharatiya Janata Party may release a sex tape ahead of the Gujarat polls with an aim to defame him. And on Monday, November 13, two sex video clips reportedly showing Patel with a woman went viral on social media.
However, Hardik called the videos fake. "The video is fake and morphed. It is part of dirty politics by the BJP that has stooped down to the lowest level to attack me," he tweeted.
"I am a man, I am not impotent. The BJP has attacked my personal life. There are many people in the BJP. I will also come out with their CDs. Hardik has become big. Crores of rupees are being spent to defame me. Dirty politics has begun. I am not bothered but Gujarat's women are being insulted."
Even though Hardik may have said that these videos are doctored, Ashwin Patel, who began the Patidar agitation in 2012, said that the videos weren't really surprising and that Hardik is known to have exploited several women. "I separated from Hardik as he exploited several girls, including a Patidar one. Hardik's aides from Surat, Morbi and Rajkot also exploited girls," TOI quoted Ashwin as saying.
"Hardik came to me in Delhi in 2015 with a girl claiming her to be his wife. He went to Manali and I have all the records and audio clips. If Hardik will not clarify now, I will produce the records in next four days."
While the clips, said to be from the night of May 16, 2017, kicked up quite a frenzy on social media, their authenticity is yet to be verified and the source of these videos is also not known.
Nevertheless, the videos were shared by many people with comments that said: "Patidar community and Gujarat's traitor Hardik Patel's kaam leela" and "This is the real face of pervert Hardik Patel who is misguiding Patel community," reported the Times of India.
Amid the allegations, BJP has said that it has nothing to do with these clips and Mansukh Mandaviya, Union MoS for road, transport and highways, said that instead of blaming BJP, Hardik should have filed a formal complaint with the police.
The Congress, in turn, has supported Hardik and slammed BJP for the videos. "The BJP has stooped to a low level of politics and such leaks infringe upon a citizen's fundamental right to privacy," Congress spokesperson Shaktisinh Gohil said.
Meanwhile, on November 3, Hardik has warned his followers that BJP could do something like this to tarnish his image. "What else can one expect from the BJP? So just wait, watch and enjoy," he had said.
Both BJP and Congress have been trying to garner Patel's support for a while now. He had earlier asked the Congress to make its point clear when it came to reservation for the Patidar community and had said that he was ready to support the party if the community's demands regarding reservation in education and jobs were fulfilled.
He also said that he had asked the members of his community to vote the BJP out of power in Gujarat. "I have been telling my community that they have to vote the BJP out of power. The community is directly supporting the fall of the BJP," he told NDTV.