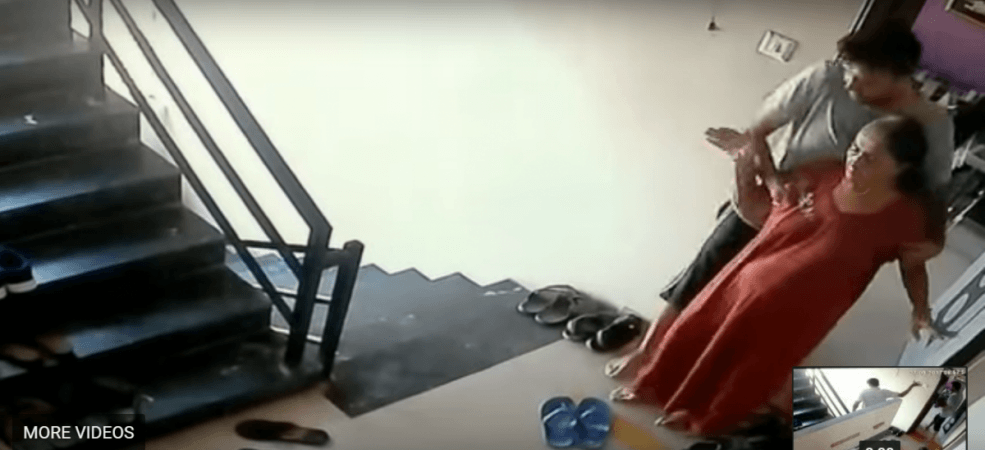 In a shocking discovery, months after Rajkot police registered a woman's accidental death by falling off the terrace, CCTV footage has now emerged suggesting that her son might have pushed her off the building. The video has gone viral on social media leaving viewers appalled.
The police after getting their hands on the evidence video, arrested the accused, Sandeep Nathwani, an assistant professor in a Mody Pharmacy college in Rajkot. Sandeep had allegedly pushed his mother Jayshree Ben, aged 64, off the roof of the building and pretended to be unaware of it.
The lecturer was seen dragging his mother from the apartment to the upstairs.
He told the police that he left his mother on the terrace to let her do the morning prayers and she sent him back to fetch water. He also claimed that he was not present when the 'accident' had taken place.
"He came back to the apartment wearing his mother's slippers," Zee News reported.
Later, one of the guards is seen rushing to the door and informing Sandeep about his mother, as per the video. Sandeep appeared to be unaware of the incident and seemed shocked as he rushed downstairs.
"She could not walk properly, needed support even to go to the washroom. This raised our suspicion towards the incident after which we examined various footages from different CCTV cameras of the building," Zee News quoted Rajkot Deputy Commissioner of Police Karan Singh as saying.
Jayshree had been suffering from brain haemorrhage and even her medical condition had been deteriorating which eventually led to a fallout between the mother and son, as per reports.
Sandeep is the only son of Jayshree, who also has two daughters, one of whom is married. The marriage of the other daughter is also a reason for the growing discontent among the family members.
The police in November 2017 had registered it as a case of suicide. However, they received an anonymous letter and CCTV footage recently which established her son Sandeep's role in her death.
After verifying the footage, the police confirmed that the victim was in no state to walk and ruled out that she could not have jumped off the building without help.
During questioning, Sandeep confessed to his crime by saying that he was tired of her poor health and he decided to kill her, according to reports.
DCP Karan Singh said, "We found from the CCTV footage that Jayshree Ben's son was along with her when she jumped from the terrace and it's not possible to commit suicide in the company of son. The role of the son has come under scanner."
The DCP further added that Sandeep had complained of chest pain and uneasiness on Thursday during the interrogation, soon after which he was admitted to a local hospital. He would be arrested shortly after his discharge from the hospital.