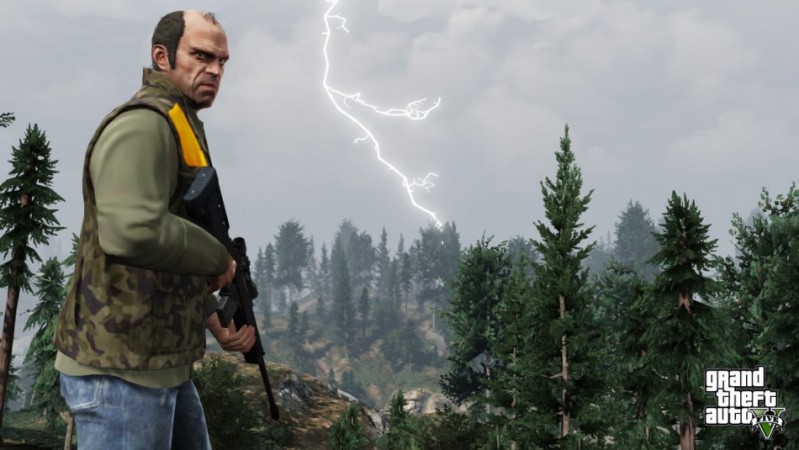 As action-adventure title, GTA 5 awaits a new downloadable content (DLC), players can try to climb walls using the BMX bike with the help of the tutorial. Players have also found out a way to get melle weapons for free and this includes the Molotov cocktail, which is rarely found. Rockstar has also released the iFruit App for PlayStation Vita and Shark Cash Cards.
Rockstar had removed the Rooftop Rumble mission in GTA Online a week back and now the mission is back in the game. Reports suggest that new music will be rolled out for GTA Online.
YouTube user, NoughtPointFourLIVE has posted video of how a player can climb the walls using the BMX bike. Following is the complete tutorial and the video to complement it.
1. Hold down RB (the bunny hop bomb) and Lean Forward on the bike simultaneously
2. Now lean back to the line with the front wheel at 45 degrees to the wall
3. When you touch the wall hold LT that will act as break.
4. Keep tapping RB and tap forward.
(YouTube Courtesy: NoughtPointFourLIVE)

How to Get Melee Weapons for Free?
Players can now get melee weapons for free due to the glitch in GTA Online. The weapons that will be available through this is baseball bat, crowbar, molotov cocktail, knife, broken bottle, police baton and golf club.
YouTube user, Dynasty has posted a video detailing how to get free melee weapons. Details are below:
1. Download the Deathmatch 'All the Melee Weapons!'- Xbox 360 download and PlayStation 3 download.
2. Restart the online servers
3. Host a new deathmatch and ask a friend to join in.
4. Pick up all the weapons and ask the friend to leave.
5. Now go to Free Mode.
6. You will see all the melee weapons including the Molotov cocktail in the stock.
(YouTube Courtesy: Dynasty)

Rooftop Rumble Mission is Back
After temporarily removing Rooftop Rumble mission in GTA Online, the mission is back again with a fix and is rearing to go.
Below are some of the instructions to help you sail past any issues when running the mission (Motoring Crunch):
1. In GTA Online, call Martin and request a job.
2. If the Rooftop Rumble isn't there on the list, try joining a quick mission in the pause menu.
3. Repeat steps 1 and 2 until the Rooftop Rumble lobby loads up.
4. Play and complete the mission.
5. Return to free roam.
Players must note that the Payout and RP remains as it was before Rockstar took it off, there have been no changes made for them.
iFruit App Launched for PlayStation Vita
The iFruit app, which is GTA 5's Companion app for cell phones and tablets, was launched for PlayStation Vita, said Sony Entertainment Network on their website on 1 April.
This is a free app where users can be "up-to-date on the latest news, log into the Rockstar Games Social Club and stay connected on LifeInvader and launch other Rockstar Games apps."
iFruit app allows players to have the creative freedom to customize their vehicles on both GTA 5 and GTA Online. They can also look after Franklin's pet dog, Chop, leading the dog to be more helpful and responsive. Through this it will also perform different tricks, sniff hidden items and you will earn credits for that.
Shark Cash Cards Released
In the event of microtransactions making inroads into GTA 5, Rockstar has released set of cards that can be purchased at any dealers and claim the money, reported Motoring Crunch.
Below are the cards that were released:
Red Shark Cash Card, $2.99/£1.99 - 100,000 GTA$
Tiger Shark Cash Card, $4.99/£3.19 - 200,000 GTA$
Bull Shark Cash Card, $9.99/£5.99 - 500,000 GTA$
Great White Shark Cash Card, $19.99/£11.99 - 1,250,000 GTA$
Whale Shark Cash Card, $49.99/£30.99 - 3,500,000 GTA$
Megalodon Shark Cash Card, $99.99/£64.99 - 8,000,000 GTA$
New Music for GTA Online
Rockstar has revealed that it will be releasing a "never-before-heard unreleased instrumental music from the original scoring sessions by Tangerine Dream, Woody Jackson, Alchemist and Oh No" according to the blog post.