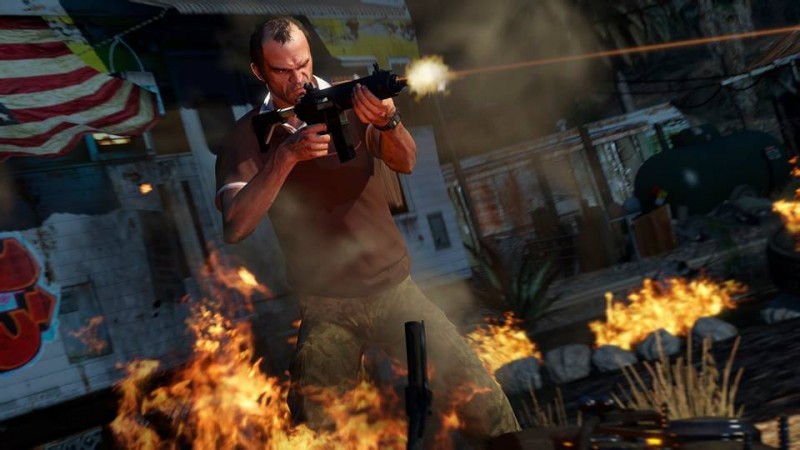 As players of GTA 5 Online await the newly announced Ill-Gotten Gains Part 1 DLC update, the PC version players have been busy with the mods.
There have been a list of 26 PC cheats that have been compiled and if interested, players can use it to get invincibility, special weapons, spawning spontaneously and many more.
As for the PC gamers, they can prompt the text by tapping the tilde key (~), but players on console have to make their character bring out the in-game cell phone and type out the cheats.
Cheat codes have their own limitations. Usage of these might get players banned. They will not be able to earn any achievements, or they will not be able to get past a difficult mission.
Below is a list of GTA 5 Cheats:
GTA 5 Player Effect Cheats
Drunk Mode – LIQUOR
Explosive Melee Attacks – HOTHANDS
Fast Run – CATCH ME
Flaming Bullets – INCENDIARY
Invincibility – PAIN-KILLER
Max Health & Armor – TURTLE
Raise Wanted Level – FUGITIVE
Recharge Ability – POWER-UP
Skyfall – SKYFALL
Slow Motion Aim – DEADEYE
GTA 5 Item Cheats
Parachute – SKYDIVE
GTA 5 World Effects Cheats
Change Weather – MAKEITRAIN
Moon Gravity – FLOATER
Slippery Cars – SNOWDAY
Slow Motion – SLOWMO
GTA 5 Vehicle Cheats
Spawn BMX – BANDIT
Spawn Buzzard – BUZZOFF
Spawn Comet – COMET
Spawn Limo – VINEWOOD
Spawn PCJ-600 – ROCKET
Spawn Rapid GT – RAPIDGT
Spawn Sanchez – OFFROAD
Spawn Stunt Plane – BARNSTORM
Spawn Trashmaster – TRASHED
[Source: iDigitalTimes]