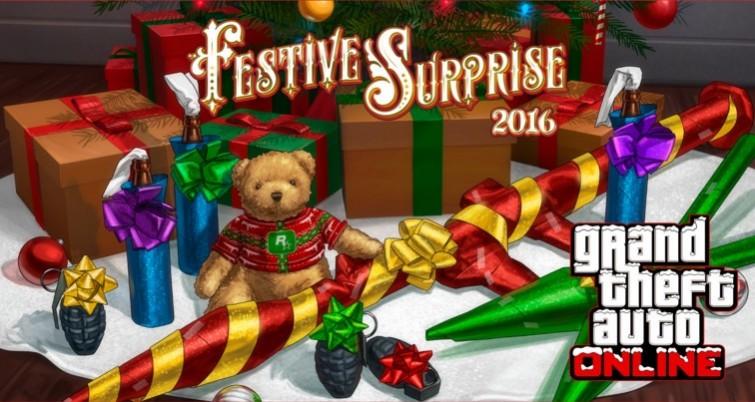 GTA 5 Online, the popular video game from developer Rockstar Games has received its annual Christmas special in Festive Surprise 2016.
This year Rockstar is offering brand new festive items for GTA 5 Online and it also marks the return of some favourite items from previous holiday seasons. The new items will include a new Super class vehicle, clothing items, snow and more.
Super class vehicle
Nero is the new vehicle being offered as part of the update. Nero is highly customisable and rolls out of Benny's Original Motor Work.
Rockstar in its Newswire blog asked its players to keep an eye out for more updates on special vehicle inventory at Benny's. These will be part of GTA Online: Import/Export.
Clothing items – Pyjamas
GTA 5 Online players will also be getting pinstripe smoking jacket and pyjama set from December 20, 2016 to January 2, 2017. These are part of the free unlocks, where anyone logging in to GTA 5 Online will get them.
Holiday bonus
Players will be able to bag double GTA money and RP events on the new Turf Wars Adversary Mode. The event will be available from December 22. Playing this will allow players to make more money and RPs.
Discounts
Rockstar is also giving out a 25% discount on the following items:
Vehicles: Enus Super Diamond, Nagasaki Shotaro, Resprays and Neons
Air Travel: Buckingham Nimbus and Volatus
Real Estate: Eclipse Towers Penthouses, Stilt Houses and High End Apartment Interiors
Ammu-Nation: Compact Grenade Launcher, Sweeper Shotgun, Mini SMG and Compact Rifle
Snapmatic contest
Players can take pictures of their gifts or something similar in-game and send them to enter the #FESTIVESURPRISE2016 Snapmatic Contest. All that players need to do is tag the picture with the #FESTIVESURPRISE2016 and win a chance to be one of five chosen Snapmatic photographers, who will end up getting holiday bonus of 1,000,000 in GTA money. The contest ends on January 2, 2017.
Premium Race
Plummet will be the new race that gets the premium tag, as the top three players are set to win GTA money prizes. Meanwhile, anyone participating in the race will earn three times the RP. The event ends on January 2, 2017.