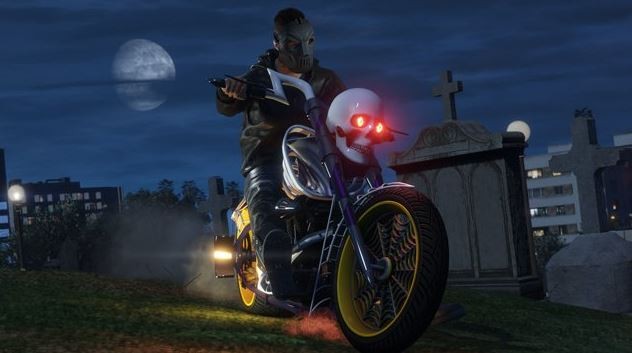 GTA 5 Online, the popular action-adventure video game from developer Rockstar Games, is celebrating Halloween weekend with anniversary bonuses, new vehicles and other specials.
Sanctus motorcycle
GTA 5 Online players on Friday are expected to get a new bike that terrorises players in the game.
The game introduces a new Lost vs. Damned mode, where the forces of good (Angels) battle the forces of bad (Devils). Further, there will be a day/night cycle that switches every 60 seconds. The night time cycle will aid the Devils and the day time will aid Angels. During the prime time, each of the two forces will have increased armour, health and superior weapon load-outs.
Pegassi Vortex motorcycle
This is the newest addition to the game's Bikers motorcycle. This bike is a sophisticated two-wheeled monster that is suitable to be used on any occasion.
It is currently available for purchase at Southern San Andreas Super Autos.
How to get $250,000 bonus?
Players can chance upon winning $250,000 bonus as Rockstar is awarding anyone who logs in on PS4, Xbox One or PC until October 31. This amount will be deposited to the player's Maze Bank account by November 4.
Discounts
GTA 5 Online also has a 30 percent off a wide variety of vehicles, weapons and on fan-favourite items. These discounts are available only for a limited time, until November 7.
Here are the discounted items that are part of anniversary specials:
BY LAND
Grotti Turismo R (Super) - The Business Update
Grotti X80 Proto (Super) - Further Adventures in Finance and Felony
Pegassi Zentorno (Super) - The High Life
Progen T20 (Super) - Ill-Gotten Gains Part 2
Annis RE-7B (Super) - Cunning Stunts
Bravado Banshee (Sports) - Drop Zone
Lampadati Furore GT (Sports) - Last Team Standing
Voodoo Custom (Muscle) - Lowriders
Willard Faction Custom Donk (Muscle) - Lowriders: Custom Classics
Benefactor Dubsta 6x6 (Off-Road) - I'm Not a Hipster
Vapid Liberator (Off-Road) - Independence Day Special
Albany Roosevelt (Sports Classics) - Valentine's Day Massacre Special
BY AIR
Western Company Besra - The San Andreas Flight School
Buckingham Valkyrie - Heists
Buckingham Luxor Deluxe - Ill-Gotten Gains Part 1
BY SEA
Pegassi Speeder - Beach Bum Update
The Aquarius - Executives and Other Criminals
WEAPONS
Heavy Shotgun - Last Team Standing
Marksman Rifle - Last Team Standing
CLOTHING & TATTOOS
Outfits: Hipster - I'm Not a Hipster
Outfits: Finance & Felony - Further Adventures in Finance and Felony
Tattoos - Lowriders
Tattoos - Lowriders: Custom Classics
Premium Race (Nightlife)
Rockstar will hold a premium race from October 25 to October 31 at Downtown Los Santos. Participants will be awarded Triple RP and top three finishers will be suitably rewarded with payouts.