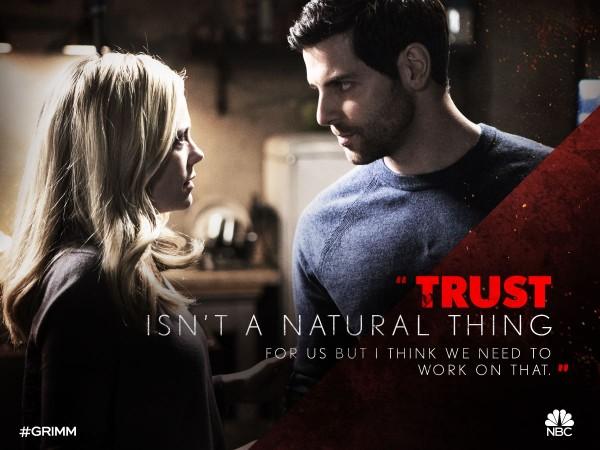 Grimm season 6 premiere is three months away, but speculations on Nick Burkhardt and Adalind Schade's romance are surfacing online ever since the show aired season 5 finale. The last season ended by featuring the Hexenbiest with Captain Sean Renard and their daughter Diana Schade-Renard being tortured by Conrad Bonaparte.
The new details on the upcoming season hint at a reunion for Kelly Schade-Burkhardt's parents as cast member Bitsie Tulloch revealed that her character Juliette Silverton a.k.a Eve has no interest in her former boyfriend. But rumour mills are on overdrive on a wedding between the detective and his former girlfriend.
Although the fans of NBC supernatural series are also speculating a separation for David Giuntoli's character and his baby mother, actress Claire Coffee hopes for a reunion. She revealed that the only thing her character wants is to be back with Kelly's father and establish a family with him.
"I think Adalind firmly believes that Nick and company are on the right side, and she wants to be, too. She doesn't want to go back to her evil roots, and she doesn't want to be working with Black Claw. So she'd like to be back with them, and so at this point, it's just figuring out a way to get back there," Parade quoted the actress as saying.
The West Wing star even stated that she is no more interested in using her Hexenbiest powers, but she will be using it for good, especially to protect her daughter from the evil force.
Meanwhile, actress Tulloch updated her followers with new details about the upcoming season. She posted a screen-shot of the script page on Twitter that reveals a few details of episode 9. The sequel is titled Tree People and it will be directed by Brenna Kouf.
NBC supernatural series Grimm will return with season 6 on January 6 2017. Episode 1 is titled Fugitive and its official synopsis is yet to be released.