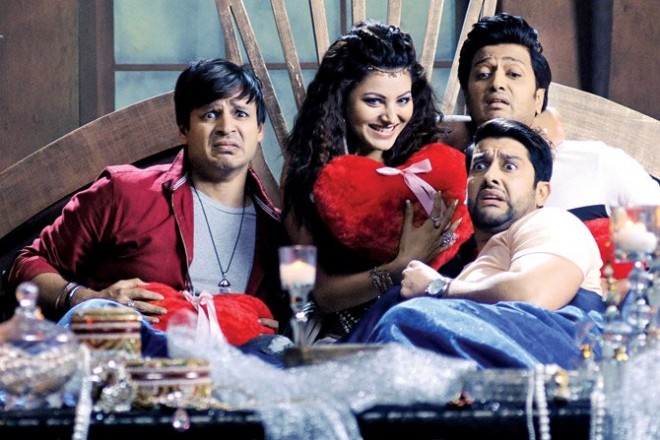 Director Indra Kumar's Bollywood movie "Great Grand Masti" (GGM), starring Vivek Oberoi, Riteish Deshmukh, Aftab Shivdasani and Urvashi Rautela, has received mixed reviews from audience.
Check: Great Grand Masti Review | GGM Posters | GGM Team on Kapil's Show
"Great Grand Masti" is an adult spooky comedy film, which is the third instalment in the "Masti" film series. Tushar Hiranandani has written the story, while Madhur Sharma and Aakash Kaushik have penned the screenplay for the movie. Sameer Nair, Aman Gill, Ashok Thakeria, Sri Adhikari Brothers and Anand Pandit have bankrolled the movie under the banners of Balaji Motion Pictures and Maruti International.
"Great Grand Masti" revolves around the story of Amar Saxena (Riteish Deshmukh), Meet Mehta (Vivek Oberoi) and Prem Chawla (Aftab Shivdasani), who encounter a 'femme fatale' Ragini (Urvashi Rautela) in a small town. Ragini is everything they had dreamt of. But how she slowly turns into their worst nightmare forms the crux of this laugh riot.
The first two instalments in "Masti" film series showed Amar, Meet and Prem chasing girls, but a charming virgin ghost is trying to seduce them in "Great Grand Masti." There is nothing much to boast in terms of its story. But some adult jokes and comedy scenes keep the film goers engaged and entertained throughout the film, say the audience.
Vivek Oberoi, Riteish Deshmukh and Aftab Shivdasani have delivered good performances and their comedy timings are highlights of "Great Grand Masti." Urvashi Rautela impresses the movie buffs with her glamour and skin show. The movie has good production values and background score, dialogues, choreography of songs and cinematography are the attractions on the technical front, say the viewers.
We bring you some viewers' verdict shared on Twitter. Here is the live update of the "Great Grand Masti" movie review by audience:
Faridoon Shahryar ‏@iFaridoon
I don't have anything against sex comedy genre..but the problem wid #GreatGrandMasti is that it just doesn't make u Laugh n is way too crude. I seriously wonder why a fine actor (who's doing great selfless work 4 society) like Riteish Deshmukh is doing CRAP like #GreatGrandMasti. .#Masti had a super cool song #DilDeDiyaHai but #GreatGrandMasti has Forgettable music promoted in a lackluster manner!! Urvashi Rautela looks like million bucks in #GreatGrandMasti n is the only bright spark in an otherwise dull,drab n boring film... So #GreatGrandMasti is a below par product that doesn't make u laugh (Sanjay Mishra is the only saving grace)...don't waste ur money.Avoid!!
Salilacharya ‏@Salilacharya
Its crude its crass its tits and ass but 50 percent of me liked it , its straight out sexual humour ull frown and laugh #greatgrandmasti. acing it were @Riteishd and @URautelaForever great stuff ..Every country has their own sex comedy and well we have ours #greatgrandmasti
Rohit jaiswal ‏@rohitjswl01
Saw #GreatGrandMasti... 1st half still ok types.. but 2nd half very bad... Nvr expcted this level of Idiotism frm Indra kumar ji.. #GreatGrandMasti is only nd only abt @URautelaForever.... She is looking like a barbie doll, If Ghosts are soo pretty den I am ready to die
Prashant Chambakara ‏@PChambakara
#GreatGrandMasti, a one time watch. Not like the part 1 & 2. No storyline. What's Plus point: Urvashi's dance & Sanjay Mishra's baba giri.
Rahul Raut @Rahulrautwrites
#‎GreatGrandMasti‬ is badly directed, poorly written and 'Oh-Aah' acted.. I mean there is neither 'Great' nor 'Grand' type of masti or comedy. The previous part of this Masti series was better, far better you can say. The first part is good and has many comedy (say it awkward BTW) scenes which will make you laugh but from the beginning of second half to the end, it's completely crap. I wish I could slap the director for making such a nonsense thing.
Harendra Bhadoria ‏@kkingofheartz
@URautelaForever is only beautiful sight in #GreatGrandMasti otherwise boring, and money wasting film. Watching it before could hv saved it
Anup ‏@aryan7874394181
Watched #greatgrandmasti is not that much adultas grand masti but it will Entertain u fully and songs superb#urvashiis sizzilinghotter
Nazrullah Obaidi ‏@Nazrullah13
Just Watched #GreatGrandMasti Superb Movie full Entertainment @Riteishd bhai your Outstanding
SOHAIL KHAN ‏@ItsSohailKhan
#GreatGrandMasti First half completes & full masti going on. Ritesh ,Vivek and Aftab at its best. Loved it till now. Nobody is better than Riteish Aftab and Vivek in comedy films & they once again prove it. All in all #GreatGrandMasti is a Nice film to watch this weekend. @Riteishd , @vivek_oberoi & @AftabShivdasani will entertain you for sure.
Wi$h ‏@Wishmow
Watching #greatgrandmasti 1st half is almost made up of songs... Atleast the 2nd half is entertaining me for now... #comedy #fun #masti
Scheff ‏@shafiqulhasan81
#GreatGrandMasti is the wackiest adult entertainer. A Must watch if you are fan of such genre, it's hilarious and yes very cheap! #Bollywood
Sarmad Sultan ‏@sarmadsultan121
Watched #GreatGrandMasti such a boring film even #grandmasti was better than this one
Umair Sandhu ‏@sandhumerry
Exclusive Review #GreatGrandMasti.Paisa Vasool Comedy Film all the Way. Chartbuster Songs & Racy Screenplay. 3.5*/5*
Suchet Reddy ‏@reddysuchet98
The biggest highlight of #GreatGrandMasti is @URautelaForever
Geeक ‏@yatharthsingh
So, Vulgur, stupid Old Jokes... Writers & Director please get a life. #GreatGrandMasti
Dhongi Baba ‏@YoYoDhongiBaba
after #housefull3 this year got another epic and comedy movie #greatgrandmasti
Dhruv Tanwar ‏@dhruvtnwr
#Greatgrandmasti is on the lines of the original #masti. Personally find this one better than part 2. Big thumbs up!
Cadbury Silk ‏@MissAmicable_
#GreatGrandMasti will earn just a liitle bit thanks to Urvashi Rautela"s cleavage show. Rest its a no show.
RAJEEV RANJAN ‏@rajeev_X4_
just watched #GreatGrandMasti n it's not so vulgar at all. U'll love the surprise entry of @ShreyasTalpade in it too
Shivankar Awasthi ‏@iamshiv08
Just watched #GreatGrandMasti and the review is just don't go for it don't waste ur money.. @taran_adarsh @kamaalrkhan
Bollymusik ‏@itsbollyinfo
#Greatgrandmasti 1.5/5* because no masti in movie. #grandmasti ki masti > #greatgrandmasti