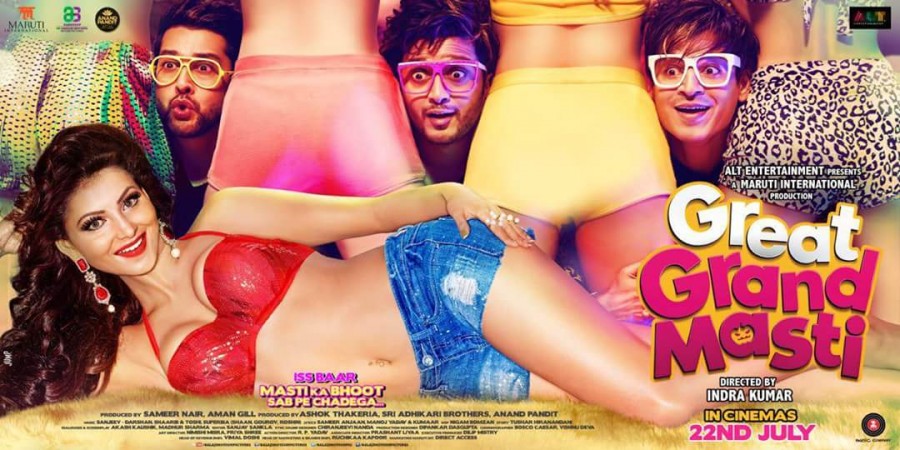 Adult comedy "Great Grand Masti" (Masti 3), starring Riteish Deshmukh, Vivek Oberoi, Aftab Shivdasani and Urvashi Rautela, has opened to negative response from critics. The critics have panned the film, which is the third in the "Masti" franchise.
"Great Grand Masti," directed by Indra Kumar, has failed to woo the critics like the first and second instalments did. The average script and flawed direction have let the film down, but the dialogues will tickle the funny bone.
The adult comedy is the third instalment after "Masti" and "Grand Masti." The first two instalments opened to positive critics review and also did wonders at the box office. In fact, "Grand Masti" is the first adult comedy to cross Rs. 100 crore mark in India. However, it remains to be seen whether "Great Grand Masti" will open to the same audiences' response in India or not.
The Indra directorial features Riteish, Vivek, Aftab and Urvashi in the lead roles, while Pooja Bose, Shraddha Das, Mishti, Usha Nadkarni and Sanjay Mishra play the roles of supporting characters.
"Great Grand Masti" was initially slated to release on July 22, but the release was advanced by a week after the full movie was leaked online.
Read what critics have said about Riteish, Vivek and Aftab starrer "Great Grand Masti" below:
Rohit Vats of Hindustan Times said: "Don't you dare smile! Even if you do, do it with a sorry face. Who knows, a smile might turn out to be the inspiration for an even greater 'masti'.
It's a miracle I have survived."
Subhash K Jha in his review said: "Great Grand Masti is as sexy as watching two porcupines mating in the zoo. The people on screen may have fun. We will pass. Thank you."
Bryan Durham of DNA said: "Strictly recommended viewing for people who want to get sledgehammered with silliness. Or just hammered by ham. You know you want it!"
Pathikrit Sanyal of News18 said: "Wow this movie has a 3D animated flashback section. This shoddy animation quality is better than the movie so far #GreatGrandMasti The movie has plugged in its name twice so far like we need constant reminders of our mistake of coming to watch it. #GreatGrandMasti"
Bollywood Hungama reviewer said: "GREAT GRAND MASTI fails to capitalise on the strong franchise value on the account of a poor script which hardly offers any masti or entertainment to the audience. At the box office, its prospects appear extremely weak."
Rahul Desai of Catch News said: "Only if they stopped genre-labeling these films, the Ragini MMS series would find validation as India's funniest franchise, while this Masti series has already achieved the singular distinction of being India's scariest and most horrific, toe-curling, nail-screeching and hair-raising franchise ever made."
Sreeju Sudhakaran of Bollywood Life said: "Great Grand Masti is not a film. It is an embarrassment. It is a severe headache inducing exercise. Let's hope that Indra Kumar finds better joke-writers if he plans another one, or better, stop this assembly line production once and for all!"
Nandini Ramnath of Scroll.in said: "Despite the promise held out by the title, this kind of fun is neither great nor grand."
Rachit Gupta of Filmfare said: "Great Grand Masti has all the regular trappings to satisfy the average adult comedy aficionado. But if you expect even the slightest amount of grace and intelligence in your cinema, you'll have to look away. This is pure cheeky fun. Meant only for those who enjoy innuendos."
Anna MM Vetticad of Firstpost said: "Optimistic critic who was traumatised by Grand Masti but still dutifully watched Great Grand Masti in the hope that this time Kumar might have come up with something worthwhile – check."