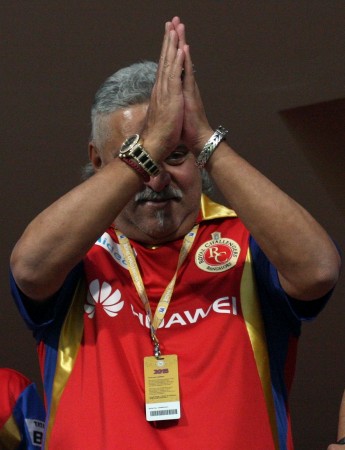 Two days after India's attorney general's (AG) assurance to the Supreme Court that the government would provide full cooperation in Vijay Mallya's loan default case, the ministry of external affairs has written to the High Commission of the UK in New Delhi requesting his deportation, as tweeted by ANI.
MEA has written to High Commission of UK in Delhi requesting deportation of #VijayMallya..cntd: Vikas Swarup, MEA pic.twitter.com/3w6pCJG9rW

— ANI (@ANI_news) April 28, 2016
It said the presence of the businessman is needed for the investigations against him under the Prevention of Money Laundering Act, 2002.
"We will continue to pursue this matter with the United Kingdom authorities," Vikas Swarup, spokesperson for MEA, said. The bureaucrat added that the High Commission in the UK will also be issuing a similar note verbale to the UK foreign and commonwealth office.
TimesNow reported that the government has actually sought for Mallya's extradition.
The Enforcement Directorate (ED), an economic offence investigating agency, in its continued pursuance of legal action against the liquor baron has also decided to make a formal request to the National Central Bureau, reported the Business Standard. The NCB, a division of the Interpol in India, will be requested to issue a red corner notice against him.
It added that once the ED's letter is delivered, the Interpol wing of the Central Bureau of Investigation (CBI) is likely to issue the red corner notice on the Interpol's website in a day or two with a request to arrest him and hand him over to the enforcement agency in India.
A source in the know told the Business Standard that the process would require emphasising on the fact that "Mallya had been actively involved in criminal activity and the investigation could not be finalised without Mallya's statement on his role in the Rs 6,963-crore bank loan fraud case."
The AG had earlier told the apex court that if necessary, the government would move the court in the U.K. for his deportation or any other legal proceedings.
A red-corner notice is an arrest warrant or court order issued by the judicial authorities in the country concerned. It is considered as a valid request for provisional arrest by many of the Interpol's member-countries.