Just hours after the news broke online that several Gmail users received an email appearing to be a Google Doc with phishing vulnerability, Google released an official statement urging people not to open the mail from unindentified persons. The company also promised to investigate the matter.
Now, it seems like it was indeed a serious threat after all, and the search engine giant has released a new update with anti-phishing security check to the Gmail app for Android devices.
Once upgraded, whenever you click on a suspicious link in a message, Gmail will show a warning prompt helping you keep your account safe.
"While not all affected email will necessarily be dangerous, we encourage you to be extra careful about clicking on links in messages that you're not sure about. And with this update, you'll have another tool to make these kinds of decisions," Google's G Suite team said in a statement.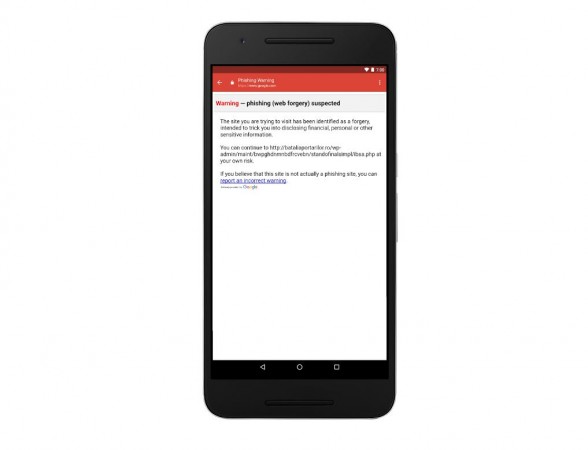 The new Gmail security update is being rolled out Over-The-Air (OTA) and is expected to reach all corners of the world by this weekend.
What is Phishing?
For those unaware, Phishing is a fraudulent practice of sending emails faking to be from reputable companies or a person in order to induce individuals to reveal personal information, such as passwords and credit card numbers.
Sometimes, users are asked to click on a link, and when they unsuspectingly press it, it then take them to an unreliable websites and lure them in to installing malware by popping warning messages on their PC (or any smartdevices) screen that there is virus in the system and need to download anti-virus firmware immediately.
Again, fearing damage to their devices, naive individuals unsuspectingly click the download button and end installing a malware. Then, hackers take control of victims' device and remote scan for sensitive information like financial data, including bank accounts, credit/debit card details, and sometimes personal photos. The hackers later sell them online, or call the victim to demand ransom for not to circulate their intimate photos in the public domain.
How to avoid getting Phished?
Phishing has become the most serious cyber threat today, as it has the potential to hit finances of large multinational companies to commoners like us.
With more and more people entering online world, cases of data theft continue to grow. So, we urge our readers to be more vigilant whenever they get emails from unknown persons and if they are convinced that the sender is not related to you or your work, tag the mail as spam and block them.
Watch this space for latest news on Google products.