Search engine giant Google has updated the company's official software support page with Pixel series phones, shedding light on the device's firmware service details.
As per the website, Google guarantees to provide Android update to Pixel series only till October 2018.
Also read: Apple to host product launch event this month-end; what to expect?
"Pixel phones get Android version updates for at least 2 years from when the device became available on the Google Store. After 2 years, we can't guarantee additional updates," Google said on the webpage.
We believe Google's statement is likely to evoke strong reactions from Android fans, as the new Pixel series phones are really expensive and would lose flagship status just after two years. This would indirectly mean that Google-made Pixel, other than the fact of getting early update and clean interface, is very less different from other third-party Android phones.
Comparatively, rival Apple is very kind to its loyal patrons, as it offers a minimum of four years of software updates. For instance, the 2012 series iPhone 5 got the latest iOS 10 update, whereas the Pixel's ancestor LG Nexus 5, which was unveiled in 2013, did not even get the Nougat update.
Also read: Google Nexus program shuts shop; how Pixel phones are different from Nexus series
On the brighter side, Google will be provide security updates for Pixel series for a minimum of three years from when the device first became available, or at least 18 months from when the Google Store last sold the device, whichever is longer.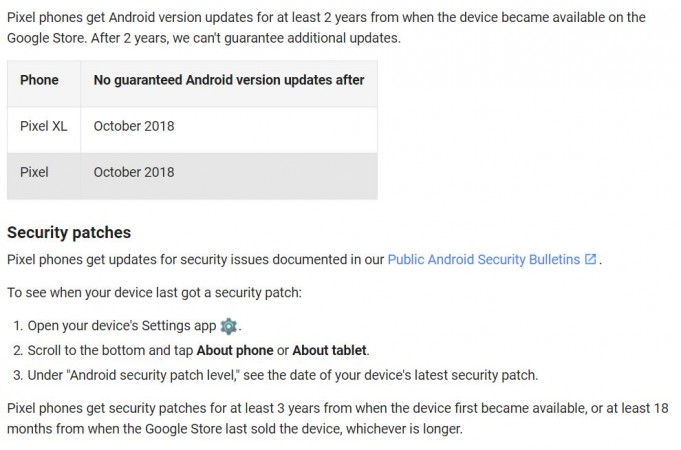 Also read: Google reveals Android N and beyond update schedules; check if your Nexus, Android One devices are eligible
It remains to be seen if Google will change its mind, after seeing reactions of the fans.
Are you ok with the Google's software service policy for the Pixel series? Let us know what you think in the comments section below.