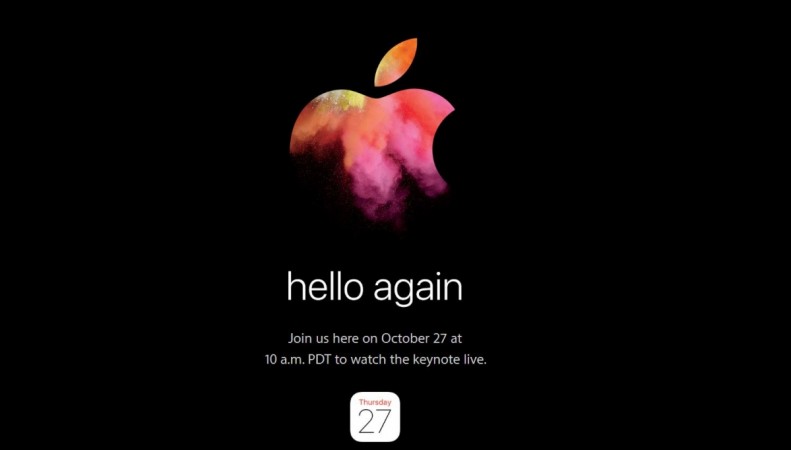 After launching the flagship iPhone 7 series, Apple is ready with its new line of products this month.
Apple on Wednesday confirmed that it would host an event on October 27 at the company's campus in Cupertino. The Key note presentation is scheduled to kick-off at 10 am PDT (10:30 pm IST).
Also read: Samsung launches upgraded Galaxy TabPro S Gold to take on Apple iPad Pro and Microsoft Surface Pro 4
Like previous events, Apple will webcast the entire programme online. The only caveat is that the live streaming uses Apple's proprietary HTTP Live Streaming (HLS) technology and is compatible only with select Apple devices and latest Windows 10-powered PCs with Edge browser.
Apple October 27 product launch event: What to expect?
It is widely reported that Apple, after years of no major improvement in PCs and Laptop series, will finally unveil a new line of desktops and notebooks including MacBook Pros, iMac desktops, Mac mini desktops, and Mac Pro desktops with completely new design and increased performance.
The star attraction of the show is expected to be the new generation MacBook Pro, which is believed to come with a slim body and also a secondary display on the keyboard, so that the user gets instant information on the apps active and display dynamic function key options relevant to it.
It is also said to boast Touch ID based track pad and auto unlock feature, which allows users to open the home page of the device via Apple Watch.
If rumours are to be believed, Apple will ditch micro USB v2.0 for Type C v3.0 port in the upcoming new MacBook Air. That said, it is unlikely to receive any negative response from the public, like it got when it removed the 3.5mm jack in the iPhone 7 series, as Type-C port is already in smartphones and it was just a matter of time for it to become an industry standard for PCs.
Since we are a week away from the launch event, more leaks pertaining to the new MacBooks and iMacs are bound to surface online.
Keep an eye on this space for more updates.