Google is in the same league as Samsung and Apple when it comes to making the best flagship smartphones. The critically-acclaimed Pixel 2 and Pixel 2 XL were lauded for their excellent cameras, and there are a lot of expectations from Google for this year's flagships.
While we've been hearing a lot about the Pixel 3 and Pixel 3 XL, MySmartPrice has exclusively shared renders showing Google's 2018 flagships in their full glory. The 5K CAD renders and 360-degree video showing the Pixel 3 and Pixel 3 XL offer a detailed look at the overall design, confirming more than a few things about the features of the handsets.
Google's next-gen flagships are expected to be released later this year, and these leaked renders aren't officially confirmed by the maker. There's still room for speculation, but these are the best renders accurately showing us what the Pixel 3 and Pixel 3 XL could have based on the rumours we've heard.
As per the unofficial renders, courtesy of mobile tipster @OnLeaks, show notched display for the Pixel 3 XL and a standard 16:9 aspect ratio screen for the smaller Pixel 3. The rear design on both flagships appears to be identical to the current Pixel 2 series, complete with a single camera lens, a fingerprint scanner and Google's minimalistic branding towards the bottom.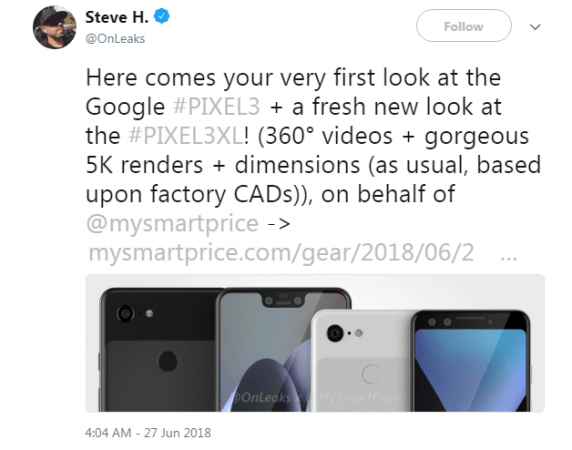 Google Pixel 3 XL's notched display will accommodate 19:9 aspect ratio, and the bezels appear slimmer than they are on the Pixel 2 XL. Rumours suggest the phone's display will be 6.2 inches, but Google won't be competing against its rivals on the screen-to-body ratio front.
The Pixel 3 is expected to have a 5.4-inch display, slimmer bezels and an identical rear design. While Google appears to be sticking to the single camera lens on its flagships, which many might find disappointing, both flagships seem to have dual cameras on the front. But there's also a fair share of scepticism regarding dual front cameras as the second sensor could well be a proximity sensor.
Much like the current flagships, the Pixel 3 series will have a USB Type-C port for charging, volume and power buttons on the right, and SIM card tray on the left. The white colour Pixel 3 is shown with a turquoise power button, but the black edition has the standard black key. In case you were wondering, there's still no jack to connect your headphones to the phone.
In addition to all these details, there are other rumours filling the missing pieces of the puzzle. For instance, both flagships will be powered by Snapdragon 845 chipset, OLED displays by LG Display, Android P and up to 6GB RAM.
Nothing is official until Google says so. And if the launch of Pixel 2 series is any indication, we can expect the Pixel 3 series sometime in early October. Stay tuned for updates.