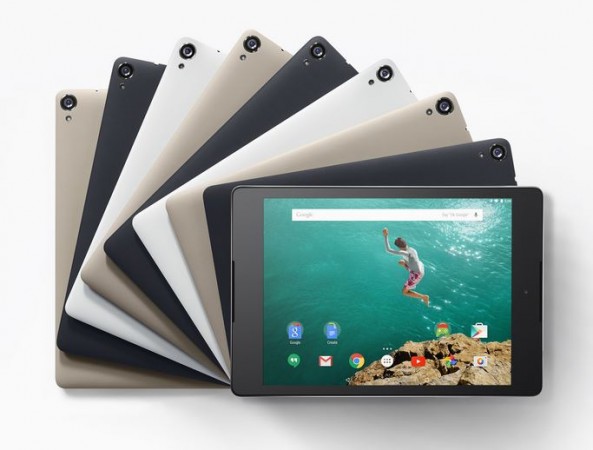 After releasing Android Nougat to Motorola Nexus 6, Google has rolled out the new update to the 2014 series tablet Nexus 9.
In addition to Nougat features, the new firmware (build number: NRD90R) comes with September month's security patch. As of now, it is available through OTA (Over-The-Air) and also downloadable images for manual flashing.
How to install OTA update on Nexus device:
1. From the home screen, tap Settings
2. Scroll down to "System," and then tap About device.
3. Tap Download updates manually.
4. Tap OK.
5. Tap Start.
6. A restart message will appear, tap OK.
Since the OTA update is being carried out in phases, it will take a few days to reach all the corners of the world.
Users can also install the update manually by going to Settings >> About Phone >> System update.
If patience is not your strongest suit, you can flash the factory images to the Nexus device. Google has put downloadable Nougat update files on its Android Developer website.
Also read: LG Nexus 5X hit with bootloop bug after Nougat update; is there a way to fix it?Requisites:
Make sure the device has at least 80-percent battery life
To update a device using one of the OTA images below, you need the adb tool. Add it to your PATH environment variable.
As a precautionary measure, users are advised to backup all personal data including photos before installing the new update.
For device security, users are advised to disable USB debugging when it is not being updated.
[Disclaimer: This procedure is very technical and should be performed by a person with sound knowledge of rooting (or manual software installation) Android devices. If the step-by-step installation process is not followed properly, there are chances of the smartphone getting bricked or being permanently irreparable. IBTimes India cannot be held responsible for any damage or claims from readers if the procedure does not yield the required results or if the smartphone is bricked. Hence users are advised to proceed with caution or just wait for a day or two to install new software with very less effort via OTA].
How to manually flash OTA images on Nexus device:
Step 1: Download the appropriate update image for your device from Android Developer website.
Step 2: Verify the checksum of the image: the OTA mechanism has a built-in validation feature, however verifying would save you some time in case the file was incomplete. The last portion of the filename is the first 8 digits of its SHA-256 checksum; the full SHA-256 checksum is also shown next to the download link.
Checksum code details:
Nexus 9 LTE: e0bb6b6b739baf808bf770f171b1d2d7806cc4bf0c793fe978f5f08bf58a07e6 (Download Link)
Nexus 9 Wi-Fi (only): f88a707f06b531cc2b5fa8fde4379b940ae4ed5f8d3cd3d5a3984fd2edfee890 (Download Link)
Step 3: With the device powered on and USB debugging enabled, execute:
adb reboot recovery
The device is now in recovery mode and an Android logo with red exclamation mark should appear on screen.
Step 4: Hold Power button and press Volume Up once, and a menu will be shown. Select the option of
Apply update from ADB
Step 5: Run the following command:
adb sideload (ota file.zip)
where (ota file.zip) is replaced with the file you have downloaded and verified.
Step 6: Once the update finishes, you should reboot the phone by choosing:
Reboot the system now
Also read: Waiting for Android Nougat update? See if your smartphone is eligible for Google's mobile OS v7.0
For those unaware, Android 7.0 Nougat comes with major upgrades over the v6.0 Marshmallow version. It brings bundled notification, new security updates, improved battery optimisation, multi-window options and more value-added features to enhance users' experience.
Also read: Android 7.0 Nougat released: 16 key upgrades of Google's new mobile OS update over Marshmallow
Google Nexus 9 Android Nougat: HTC tablet gets new OS update [How to install]