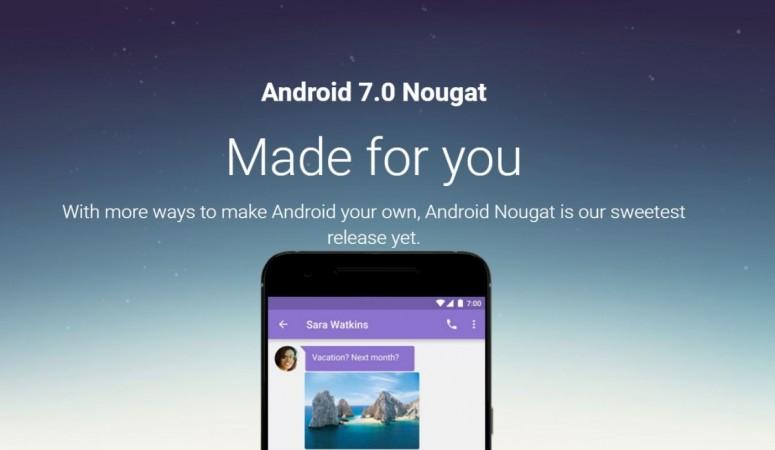 Google officially unveiled Android's version 7.0, Nougat, earlier this week. As always, the search engine rolled out the new update first to its Nexus series devices. It is expected to be expanded to Motorola, Sony, Huawei, Sony, HTC and other branded phones by their respective Original Equipment Manufacturers (OEMs).
So far, Sony and HTC have released the list of devices eligible for the new Android update. Others are expected follow suit in coming days.
Based on previous release patterns, we have lined up all the Android phones most likely to receive the new v7.0 Nougat.
Google Nexus series:
Search engine giant has already commenced the roll-out of Android Nougat for Nexus 6, Nexus 5X, Nexus 6P, Nexus 9, Nexus Player, Pixel C (laptop). But, it will take a week or two for the update to reach all corners of the world.
Android One:
Besides Nexus series, smartphones part of the Android One program will also get Nougat. Google has released the update General Mobile 4G.
Soon it will be made available to Sharp 507H and Infinix Hot 2, and other Android One series phones launched in 2016 and 2015.
Also read: Google reveals Android N and beyond update schedules; check if your Nexus, Android One devices are eligible
Android Nougat eligible HTC devices:
Among the OEMs, HTC is the first to announce the Android Nougat eligible devices. It has confirmed to release the new update to HTC 10 as early as November and later to HTC 10 Lifestyle, One A9 and One M9.
Android Nougat eligible Sony devices:
Sony has announced to release Android Nougat to 9 devices- Xperia Z3+, Xperia Z4 Tablet, Xperia Z5, Xperia Z5 Compact, Xperia Z5 Premium, Xperia X, Xperia XA, Xperia XA Ultra and Xperia X Performance.
Also read: Android 7.0 Nougat released: 16 key upgrades of Google's new mobile OS update over Marshmallow
The Xperia Z3 series has been dropped from the list. This decision of Sony has left many perplexed as the company had inducted the same model for Nougat beta testing in Europe few weeks ago. It has come to light that Snapdragon 801, which powers the Xperia Z3 series does not support the Vulcan API of Android Nougat. So, we can't blame Sony for Xperia Z3 dropping out of the Nougat eligible devices' list.
Read more: Android Nougat release update: Sony Xperia X, Xperia Z4, Z5 series and more to get Google mobile OS v7.0
Android Nougat eligible Asus devices:
The Taiwanese company is expected to release the new update to the 2016 series-based generic Zenfone 3 model, the top-end Deluxe variant, the Ultra phablet, the camera-centric Laser and a long battery life-based Max.
Zenfone 2 series phones-- ZE551ML and ZE550ML and the Zenfone Zoom (ZX551ML) are said to get the Android Nougat.
Also read: Android Nougat update release: Will Asus Zenfone 2, Zenfone Zoom, 2 Selfie, 2 Laser, Max get Android 7.0
Android Nougat eligible Samsung devices:
If history is taken as any indication, Samsung will roll-out Android Nougat in reverse sequential order starting with Galaxy Note7, S7 series and later to older models.
Other Samsung devices expected to get the new update are Galaxy S6, S6 edge Galaxy Note 5, S6 edge+, S6 Active, S7 active, S6 Ironman edition, S7 Batman and Olympic editions.
As far as mid-range devices are concerned, Samsung is expected to deploy Nougat to the 2016 series- Galaxy J7, J5, A7, A5, A3, A9, A9 Pro and the recently released Galaxy C7 and C5.
Also read: Samsung Android Nougat release schedule: When will Galaxy S7, Galaxy S6, Galaxy A7 (2016) series get Android 7.0 update?

Android Nougat eligible Moto (aka Motorola) devices:
Among all the OEMs in the smartphone industry, Moto (owned by Lenovo) has the best track record of promptly releasing the new update at the earliest.
This year too, we expect same from the American company. The recently released Moto Z series will receive Nougat as early as October and later the new update is expected to be made available to 2015 Moto X series and followed by select variants of Moto G and Moto E series [full model details below].
Read more: Android Nougat release: When will Moto G4, Moto Z, Moto X series get the new Android 7.0 update?
Android Nougat eligible Lenovo devices:
After acquiring Motorola in 2014, Lenovo has inculcated same software release policy. We expect the Chinese company to roll-out Android Nougat to 2016-based phones -- Lenovo ZUK Z2, Z2 Pro, Vibe K5 Note, Vibe X3, Vibe K4 Note around October-November period and later to older models.
Android Nougat eligible OnePlus devices:
The popular Chinese smartphone maker is expected to release the Android Nougat-based OxygenOS to OnePlus 3 before the end of 2016 and later to OnePlus 2.

Android Nougat eligible LG devices:
Google has confirmed that the upcoming LG V20, slated for launch in the September first week will come with Android Nougat out-of-the-box. Other LG devices which are likely to get the new update include G5, V10 G4 and the LG X series phones launched early in the year.
Read more: Android Nougat Update Release: When will LG G5, V10, G4 get Android 7.0 update?
Android Nougat eligible Huawei devices:
Earlier in the month, Huawei had released an official statement with regard to the company's new software policy. It pledged to offer 24 months of firmware support for all of its products including to its sub-brand Honor series.
So, any Huawei devices launched since 2015 are eligible to get the Nougat.
Android Nougat eligible Xiaomi devices:
Rumours are rife that Xiaomi will roll-out Android Nougat first to Xiaomi Mi 5, Redmi Note 4, Redmi Pro and later to older devices.
Also read: Xiaomi MIUI 8.0 (global) ROM released to select devices [How to install via OTA]

Check out for other branded Android phones expected to v7.0 Nougat update in the table below:
Brands
Most likely to get Android Nougat
May or may not get Nougat
Google Nexus series
Nexus 6, Nexus 5X, Nexus 6P, Nexus 9, Nexus Player, Pixel C (laptop)
--------------
Android One series
General Mobile 4G, Sharp 507H, Infinix Hot 2, and other Android One series phones launched in 2016 and 2015 are confirmed to Android Nougat
----------------
Asus
Zenfone 3:

Zenfone 3 series variants eligible for update includeâ€" the generic Zenfone 3 model, the top-end Deluxe variant, the Ultra phablet, the camera-centric Laser and a long battery life-based Max.

Zenfone 2:

Zenfone 2 series phones-- ZE551ML and ZE550ML and the Zenfone Zoom (ZX551ML).

Mid-range - Zenfone 2 Selfie) and budget- Zenfone Max (ZC550KL) and 2 Laser (ZE500KG/ZE500KL/ZE550KL)
BlackBerry
DTEK50 and Priv
HTC (confirmed)
HTC 10, HTC One A9 and HTC One M9.
-------
Huawei
Huawei P9, P9 Lite, P9 Plus, G9 Plus, Mate 8, Mate S, G7 Plus, G8 , P8, P8 Lite and other devices released in since mid-2015
---------------
Honor
Honor 8, Honor Note 8, Honor 5X, Honor 5C, Honor 5A, Holly 2 Plus, Honor 7, Honor 7i, and other devices released in since mid-2015
-----------------
Lenovo
Lenovo ZUK Z2, Z2 Pro, Vibe K5 Note, Vibe X3, Vibe K4 Note, Vibe Phab 2, Phab 2 Plus, Phab 2 Pro
Vibe K3 Note, Vibe Phab Plus series; [ZUK Z!:not getting update,as the Snapdragon 801 is not compatible with Android Nougat's Vulcan API)]
Moto (formerly known as Motorola)
Confirmed list:

Moto Z series:

Moto Z Force, Moto Z, Moto Z Droid, Moto Z Force Droid

Moto X series:

Moto X Force, X Play and X Style.

Even the Verizon exclusive Moto Droid 2015 series phones too are expected to Android N.

Moto G series:

Recently-released fourth generation-based Moto G4, G4 Plus and G4 Play

Confirmed:

Moto X(2nd Gen): not getting update, as the Snapdragon 801 is not compatible with Android Nougat's Vulcan API)

Third generation Moto G series and recently release Moto E3 Power, Moto E(3rd Gen) are also not getting Nougat update

Micromax and YU
Canvas 6, 6 Pro, Canvas 5 Lite, Canvas Selfie 4, Yu Yutopia, Yunicorn, Yureka S, Yunique Plus, Yureka Note
Canvas 5, select models of Unite series, Yureka Plus, Yureka
LG
LG V20 (out-of-the-box), LG G5, G4, V10, X Cam, X Screen, X Power, X Max, X Mach, X Style, LG G4 Stylus series and K10, K8 and K7 series
---------
OnePlus
OnePlus 3 (confirmed) and OnePlus 2
OnePlus X and OnePlus One: not getting update, as the Snapdragon 801 is not compatible with Android Nougat's Vulcan API)
Samsung
Galaxy S7, S7 edge, Galaxy Note7 series, Galaxy S6, S6 edge Galaxy Note 5, S6 edge+, S6 Active, S7 active, S6 Ironman edition, S7 Batman and Olympic editions.2016 series â€" Galaxy J7, J5, A7, A5, A3, A9, A9 Pro and the recently released Galaxy C7 and C5.
2015 Galaxy A series
Sony
Confirmed:

Sony Xperia Z3+, Sony Xperia Z4 Tablet, Sony Xperia Z5, Sony Xperia Z5 Compact, Sony Xperia Z5 Premium, Sony Xperia X, Sony Xperia XA and Sony Xperia XA Ultra.

Confirmed:

Xperia Z3 series not getting Nougat due to hardware limitation

Xiaomi
Xiaomi Mi 5, Redmi Note 4, Redmi Pro, Redmi Note 3, Mi 4s, Mi 4c, Redmi 2 Prime, Redmi 3, Redmi 3s, Redmi 3A, Mi Max, Mi Note, Mi Note Pro, Mi Pad 2, and Mi 4i.
Mi 2/2S, Mi 3 and Redmi 1S [Mi 4: not getting update, as the Snapdragon 801 is not compatible with Android Nougat's Vulcan API)]