Google Maps, which made its humble debut in February 2005, has vastly improved with each passing year and continues to get more value-added features (it has toilet locator in India) offering more personal options for the user. It has become one of the most popular application not just in the Android ecosystem, but also in Apple iOS.
Now, the search engine giant, unlike previous times, making neither pompous announcements nor a press release, has discreetly added a new handy travel guide feature to the Google Maps that tells the user when to leave for a destination, Android Police reported.
It offers nifty graphs to explain real-time traffic conditions. It shows the travel time graph, which has bars for half an hour before, and a few hours after the current time. If you take a closer look at the app, there's also a dotted line just above the bars with a time indicated.
This data apparently gives the user to make proper travel arrangements to his/her destination on time. As of now, this feature is currently limited to developed markets like US and UK, Android Police noted.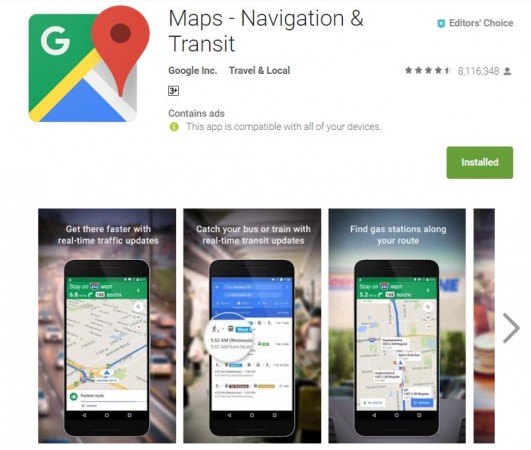 Google, earlier in the year, had also launched a new feature in Maps app, which allowed users to lock a parking location and also add information such as the floor and slot number of a mall to easily navigate back to the parking slot.
Watch this space for the latest update on Google products.