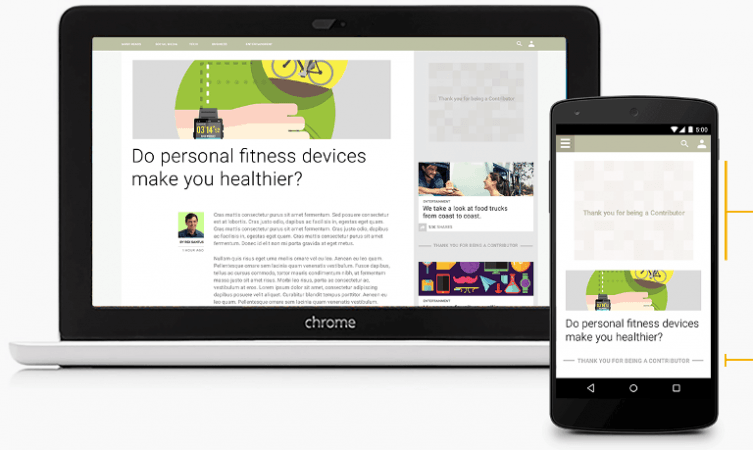 Google, the world's largest internet search titan, continues its efforts to make the web a better place for users. While advertisement remains a crucial part of the web, most people think of it as a nuisance. Google, however, is taking a fresh approach to make its audience feel comfortable by launching an experimental feature that throws ads out of select websites by taking small donations.
Google Contributor, as it is called, is described as "an experiment in additional ways to fund the web" and kill advertisements without killing the revenue. Currently, Google Contributor is running an invite-only system, where users can voluntarily donate $1 to $3 to view ad-free versions of select websites such as Mashable, The Onion, wikiHow and ScienceDaily.
"When you visit a participating website, part of your contribution goes to the creators of that site. As a reminder of your support, you'll see a thank you message - often accompanied by a pixel pattern - where you might normally see an ad," Google said on its dedicated webpage for Contributor.
Accordingt to a report by Venture Beat, the Mountain View, California-based web giant has partnered with 10 publishers for Contributor and is open for new additions. The experiment is limited to the US audience only but the success of the trial will likely open access to the worldwide audience.
The new practice follows similar methods by Google in recent months, where it announced Fan Funding for YouTube in June. YouTube Fan Funding, which is also in beta testing, allows viewers to make generous donations of up to $500 directly to the video channels they like the most. The service is available in US, Australia, Mexico and Japan. It requires channels to enable the service and users to have a Google Wallet account to forward a donation.
With invites going to just a limited number of people, you can register your interest with Google for Contributor by adding yourself to the waiting list.