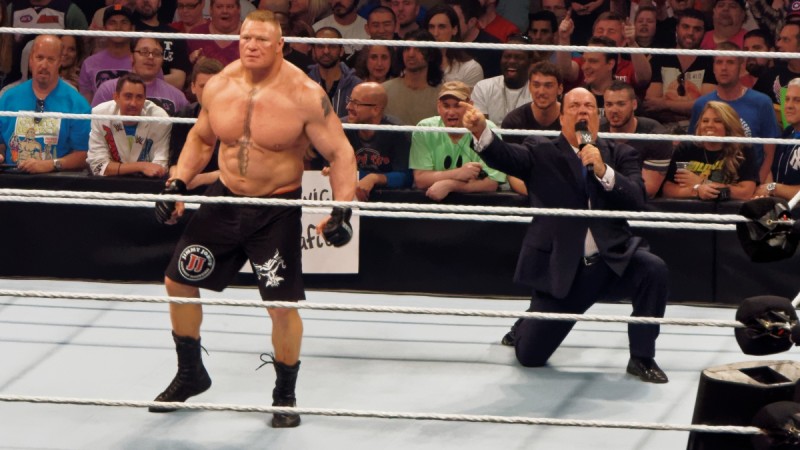 It's been a wait of more as many as 12 years and it is finally happening! Two famous personalities and big names in the pro wrestling circuit – one, a World Championship Wrestling (WCW) legend who created shockwaves after making his entry to the WWE (World Wrestling Entertainment) in the early 2000s, and another, as an accomplished wrestler who got plenty of glory in the WWE also in the 2000s and then, he moved on to MMA (mixed martial arts) and create shockwaves across the UFC (Ultimate Fighting Championship) and then returning again to the WWE as a devastating force.
Yes, we are talking of Goldberg and Brock Lesnar -- who go pound-for-pound, jab-for-jab, knee-for-knee and takedowns-for-takedowns for the second time ever in the pro wrestling circuit on Sunday at the WWE Survivor Series 2016 in Toronto, Canada. EVERY THING YOU NEED TO KNOW ABOUT THE EVENT | GOLDBERG GETS DOMINATING WIN OVER LESNAR
The veterans fighting for the first time after their battle at WrestleMania 20 in 2014 is hands down, the headliner of the pay-per-view (PPV). Questions might be asked as to why the mega rematch isn't happening in the grandest stage of WWE, the WrestleMania. With WrestleMania 33 taking place in 2017, many would have surely expected the fight to take place in Ontario, Florida.
However, over the decades, we've seen that the likes of Survivor Series, SummerSlam and Royal Rumble have almost reached the level of WrestleMania and cannot be ruled as a not-so-great WWE PPV.
So, while we wait with bated breath for the match to get kickstarted just like the launch of a cannon ball, we cannot help but mention the other major matches taking place in Survivor Series 2016. The traditional team battle sees Team Raw and Team SmackDown go head-to-head after a gap of many years. The last team battle between the two WWE brands took place in the Survivor Series 2008.
Here are the WWE superstars for Team Raw vs Team SmackDown 2016
Men's teams

Team Raw: Kevin Owens, Seth Rollins, Chris Jericho, Roman Reigns, Braun Strowman.

Team SmackDown: AJ Styles, Bray Wyatt, Dean Ambrose, Shane McMahon, Randy Orton.
Women's teams

Team Raw: Sasha Banks, Nia Jax, Bayley, Charlotte, Alicia Fox.

Team SmackDown: Becky Lynch, Nikki Bella, Alexa Bliss, Naomi, Carmella.
Tag teams

Team Raw: The New Day, Sheamus and Cesaro, Luke Gallows and Karl Anderson, Big Cass and Enzo Amore, Primo and Epico.

Team SmackDown: Heath Slater and Rhyno, Zack Ryder and Mojo Rawley, the American Alpha, the Usos, Tyler Breeze and Fandango.
Schedule
WWE Survivor Series 2016 is set to get under way from 7 p.m. ET (12 am GMT, 5:30 am IST [Monday)] on November 20. The main card fights start an hour later.
Where to watch live
India: TV - Ten 1 HD, Ten 2.
Highlights: Ten 1 - 5 pm IST.

Ten 1 HD - 10 pm IST.
USA, Canada: TV - pay-per-view.
UK: TV - Sky Box Office.
Live stream - WWE Network.
Live updates - WWE twitter.