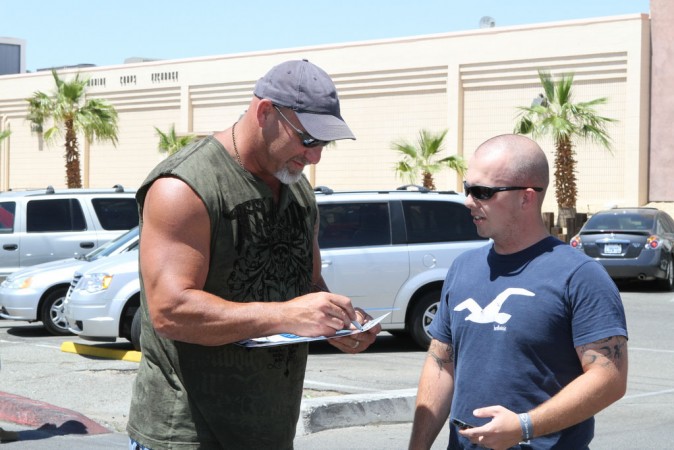 It's official! The highly-anticipated rematch between two of the greatest pro wrestlers of all time -- Brock Lesnar and Bill Goldberg -- is set for WWE Survivor Series 2016, the Vince McMahon-led company has announced. This is the second time ever in the history of pro wrestling that the two highly-revered combat athletes will go head-to-head, toe-to-toe and body-to-body.
Goldberg and Lesnar last encountered more than a decade back at WrestleMania 20 in New York City in 2004; Goldberg had earned a victory over Lesnar with Stone Cold Steve Austin being the referee.
It hasn't taken long for the rematch to get a confirmation status as it was more or less palpable when Lesnar's in-ring advocate Paul Heyman urged Goldberg to say yes to a rematch with the former UFC Heavyweight champion. Goldberg, a World Championship Wrestling (WCW) legend, was earlier this year introduced as a special character in WWE 2K17, and that teased his imminent return to the WWE ring.
Goldberg made a stunning appearance on Monday Night Raw on October 18, amid a huge pop from the WWE fans present at the Pepsi Centre in Denver, Colorado. He mentioned that he had one single fight left in him and Brock Lesnar would be his final WWE opponent. Heyman, earlier this week, also mentioned that none of the chants from the WWE fans would make Goldberg win the match as Lesnar would beat and victimise his opponent in the match.
With the rematch confirmed now, reports of the two facing at WrestleMania 33 next year comes to a rest. There are fresh rumours that the legendary Undertaker could take on Goldberg in a blockbuster match in the iconic WWE event, but, as of now, nothing is out in the open. Whether Goldberg would be keen on fighting the Undertaker after his match with Lesnar also remains to be seen.
Goldberg vs Brock Lesnar Survivor Series 2016: All you need to know
Date: November 20.
Time: 7 P.M. EST/4 P.M. PST (4:30 am IST [Nov. 21])
Venue: Air Canada Centre, Toronto Ontario, Canada