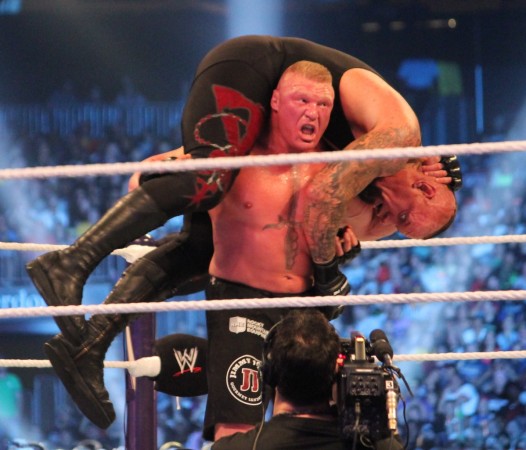 Famed pro wrestling agent and manager Paul Heyman made way to the WWE Monday Night Raw on October 24 at the Target Centre in Minneapolis, Minnesota, to address Goldberg's challenge for one last fight against the former UFC and WWE World Heavyweight champion.
As expected, Heyman, 51, who has one of the best microphone skills in the business of pro wrestling, cut another promo to take forward the feud between World Championship Wrestling (WCW) legend Goldberg and Lesnar, which reportedly could take place either in Survivor Series 2016 or WrestleMania 33.
"Brock Lesnar is pissed off by Goldberg fans," Heyman stated in the ring, clearly taking a dig on certain section of fans in Minnesota, the hometown of Lesnar. "Goldberg is like Humpty Humpty because all the chants in the world won't be able to put Goldberg back together again when he will be beaten, victimised and conquered by Brock."
The WWE Universe reacted with chants like "Suplex City" and "Goldberg Sucks" soon enough, much to the amusement of certain pro wrestling fans, who found them to be a bit out of place.
Apparently, WWE fans want to portray Goldberg as a babyface and Lesnar as a heel going ahead to their much-anticipated rematch. But WWE, asking Heyman to cut a heel promo for Lesnar in his hometown, didn't really seem to work. Heyman, too, was seen stumbling on one occasion when he took the microphone to cut the promo, a rarity considering his brilliant in-ring talking skills.
The promo may or may not have been that perfect as WWE fans expected but it nevertheless adds to the storyline of the Goldberg vs Brock Lesnar 2 feud. Goldberg, meanwhile, will be making an appearance in the special Halloween 2016 themed Monday Night Raw next week.