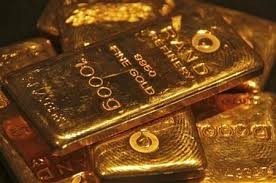 Gold dipped for a third session in a row on Friday and was set to snap a two-week winning streak as a firmer US dollar and robust economic data dented the metal's appeal as a hedge.
Bullion's dip comes despite a tumble in US stock futures and gains in other safe-havens such as bonds and the yen after a doctor in New York City tested positive for Ebola.
The metal was weighed down by strong global economic data on Thursday that calmed investor nerves after a recent selloff, prompting many to pull out of gold and get back into riskier assets.
"Gold prices weakened as positive economic data hurt investor demand," said Victor Thianpiriya, an analyst at ANZ.
"The combination of a stronger dollar and higher bond yields has seen gold exchange-traded fund (ETF) holdings slump. Strong physical demand is only providing a backstop for prices," said Thianpiriya.
Spot gold eased 0.2 percent to $1,229.98 an ounce by 0341 GMT, after slipping over 1 percent in the previous two sessions.
The metal is headed for a weekly loss of 0.6 percent as the dollar gained after two weekly declines in a row.
A strong greenback makes gold more expensive for holders of other currencies.
Data on Thursday showed that new claims for U.S. unemployment benefits held below 300,000 for a sixth straight week last week, suggesting the labour market was shrugging off jitters over a slowing global economy.
Euro zone businesses performed much better than forecasters expected this month and China's vast factory sector grew a shade faster, but U.S. manufacturing activity sputtered to its slowest since July, underscoring the uneven nature of the post-crisis global economy.
Holdings in SPDR Gold Trust, the world's top bullion ETF, fell to its lowest since late 2008 this week, in a sign of lingering bearish sentiment in the bullion market.
The fund also saw earlier this week its biggest daily percentage drop in holdings in a year despite a price jump to a six-week high.
Palladium was the best performer among precious metals for the week, with a near 4 percent jump.
"For the moment it looks like palladium is the favoured metal out of the precious four," MKS Group said in a note. "Supply concerns out of Russia and rumours of stockpiling are helping a positive technical scene on the charts."