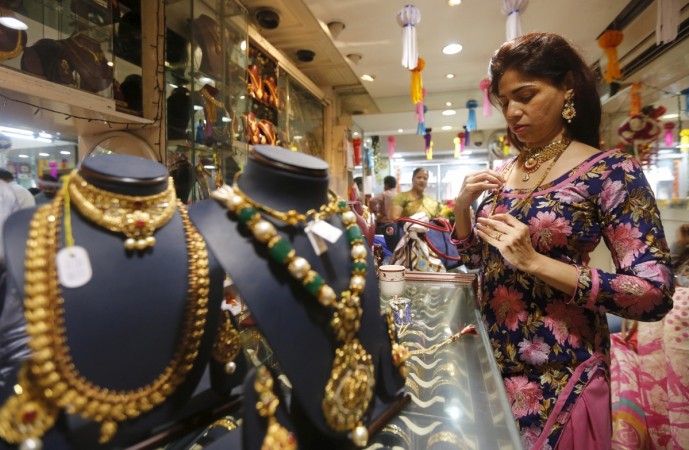 Gold prices soared by Rs 710 on Tuesday to reach the Rs 28,000 mark again, after remaining under pressure for months due to a strengthening dollar.
Overall, the yellow metal's prices have risen by Rs 825 over the past eight trading session, reaching the highest levels in more than one year.
The rally in gold prices was driven by a bullish trend in metal prices in the global markets, besides strong buying by jewellers to meet the demand in the ongoing wedding season.
A depreciating rupee has also helped the prices go up. Indian rupee breached the 68-level against the dollar again on 9 February, as domestic stock markets extended losses for the second consecutive session.
The falling rupee made gold imports costlier, helping the metal extend its gains.
In the overseas markets, gold prices traded at a multi-month high of $1,190 per ounce, as equity and oil markets came under severe selling pressure. Crude oil prices continued to trade at over-a-decade lows of $33 a barrel, as oversupply issues continue to weigh on the prices.
Falling oil prices have intensified concerns over global growth, with stock markets coming under heavy sell-off. The negative sentiment across these markets has increased the safe-haven appeal of gold, driving its prices higher.
Uncertainty over further interest rate increase by the US Federal Reserve has also been supporting gold prices for the past few weeks.
"Against the backdrop of growing fears about the global economy, plunging equity markets and falling bond yields, investors are seeking refuge in the safe haven that is gold. A weaker US dollar and the pricing-out of Fed rate hikes are also helping," said Commerzbank Corporates & Markets in a note.
Silver prices also surged by Rs 1,180 to Rs 37,230 per kg on increased demand from industrial units and coin manufacturers.