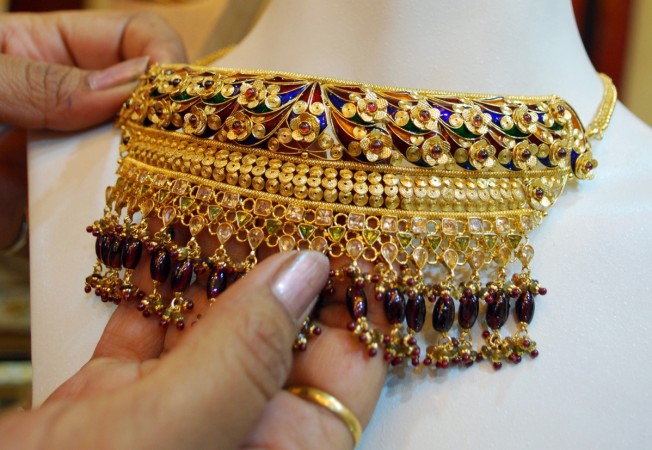 Gold prices gained Rs. 400 from their overnight close to hit a 28-month high of Rs. 31,050 per 10 gm in the Delhi bullion market on positive cues and brisk buying by investors flocking to the safe haven asset on renewed fears of Brexit. The yellow metal continues to be a favourite Eid gift in the United Arab Emirates (UAE).
Silver also gained Rs. 700 to trade at Rs. 47,000 per kg on active buying by coin makers and industry, according to a PTI report.
In Delhi, gold prices appreciated to levels seen on March 12, 2014, when the yellow metal hit Rs. 31,020 per 10 gm, PTI reported. Silver coins remained almost flat at Rs. 74,000 for buying and Rs. 75,000 for selling 100 pieces.
Gold prices have remained firm for the past few days and stayed above the Rs. 30,000-mark since June 24 when the results of the referendum conducted in Britain showed that the country will exit the European Union.
In international markets, spot gold prices rose to $1,371.40 per ounce, a new high since March 2014.
"The general bullish sentiment for gold coupled with the post-Brexit uncertainty continues to underpin the metal and the complex as a whole," Reuters quoted from a note by MKS Group trader James Gardiner.
Shops in the UAE region are witnessing a spurt in gold sales despite high prices, reaffirming the yellow metal's image of as a favourite Eid gift.
"Our sales have gone up by around 40 per cent leading up to Eid. Gold is still the most popular gift among family members," Gulf News quoted Kamel Al Chaar, managing partner of Samer Jewellery in Abu Dhabi's Madinat Zayed Gold Centre, as saying.
"People prefer to buy gold for their loved ones because it is a beautiful gift that will keep its value," he added.