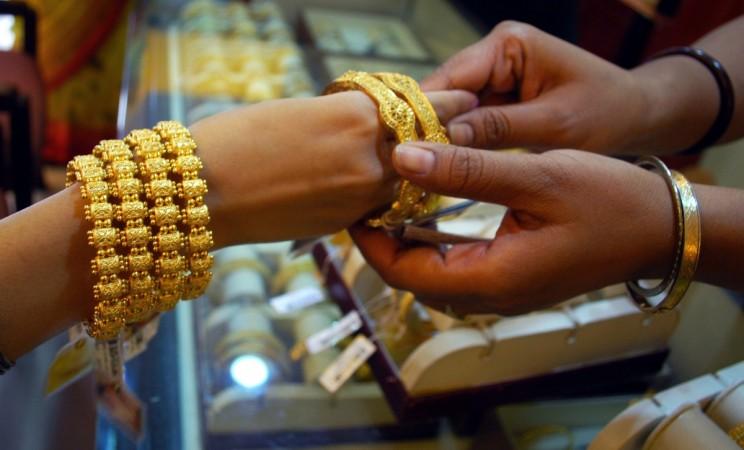 Gold rose on Wednesday, reversing earlier losses, as the U.S. dollar edged slightly lower from 14-year highs touched the previous day.
Spot gold was up 0.2 percent at $1,134.26 an ounce by 0252 GMT. It fell 0.6 percent in the previous session.
U.S. gold futures were 0.2 percent higher at $1,135.80 per ounce.
"Light trading volume can leave gold and the other precious metals open wide swings and erratic behaviour on relatively little buying or selling," HSBC analyst James Steel said in a note.
"Any pullback in the greenback may trigger a scramble into gold."
The dollar index, which measures the greenback against a basket of currencies, was down 0.2 percent at 103.110. The index touched 103.65 on Tuesday, its highest since December 2002.
"The steep dollar continues to pressure commodities including precious metals, especially gold. The precious metal faces a further downward pressure as it yields no interest in a world of likely rising interest rates and bond yields," said Mihir Kapadia, CEO of London-based Sun Global Investments Ltd.
"We expect this trend to continue for the next few months."
The Federal Reserve hiked rates for the first time in a year last week and projected three more increases in 2017, up from the two projected in September.
Gold is highly sensitive to rising rates, which lift the opportunity cost of holding non-yielding assets such as bullion, while boosting the dollar, in which it is priced.
Signals are mixed for spot gold as it approached a support at $1,121 per ounce again, according to Wang Tao, Reuters analyst for commodities technicals.
"Gold may near $1,100 per ounce but we do not think the market will go below that level. If it does break $1,100 per ounce we would expect bargain hunters and price sensitive buyers to increase purchases," HSBC's Steel added.
Among other precious metals, silver edged 0.1 percent lower to $16.07 an ounce. The metal hit $15.59 in the previous session, its lowest since April 11.
Platinum was down 0.1 percent at $915.24.
Palladium shed 0.2 percent to $662.75 an ounce. It touched a near 1-1/2-month low of $660.22 earlier in the session.