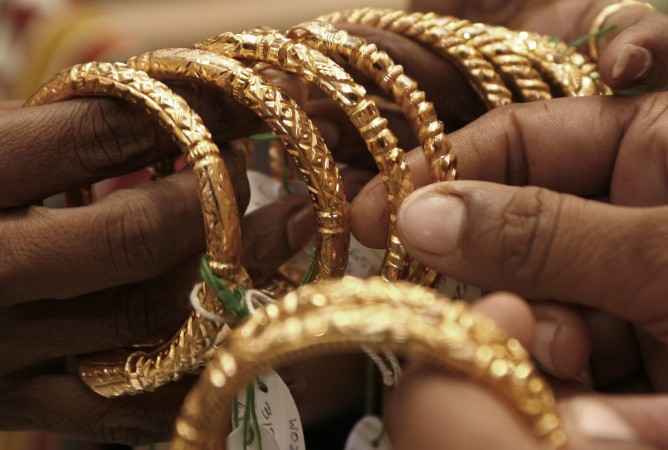 Gold prices in India witnessed a sharp decline on Friday, mirroring the precious metal's fall below $1,200 per ounce ahead of the US government releasing non-farm payroll data. The metal closed Rs 400 lower at Rs 28,850 per 10 gm, marking 4.15 percent fall since March 4 closing of Rs 30,100.
Silver ended Rs 525 lower at Rs 40,975 per kg.
In the international market, spot gold receded 0.2 per cent to $1,197.90 per ounce at 0410 GMT from $1,197.02 earlier in the session, marking its weakest since January 31, according to Reuters.
"The precious complex has extended the overnight declines during early Asian trade and we expect this to continue leading into tonight's NFP (non-farm payroll) print as the USD sees support," the agency quoted MKS PAMP Group trader Sam Laughlin as saying.
The jobs data is also seen as a factor that could influence the US Federal Reserve next week to decide on hiking interest rate.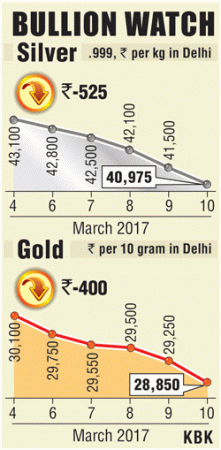 "Gold will be under pressure going into the FOMC meeting and hover around the $1,185-$1,190 level," Ronald Leung, chief dealer at Lee Cheong Gold Dealers in Hong Kong, told the agency.
Gold stocks ended in a narrow range on Friday even as the Sensex closed 17 points higher at 28,946 and the NSE Nifty gained 8 points to end at 8,934.
Bosch gained 3.32 percent on NSE to close at Rs 22,760 per share.
Foreign institutional investors (FIIs) were net buyers of Indian equities worth Rs 413 crore, according to provisional data released by the National Stock Exchange (NSE).
Titan ended 0.58 percent higher at Rs 444, Tribhovandas Bhimji Zaveri (TBZ) closed 1.95 percent lower at Rs 63. PC Jeweller ended almost flat at Rs 376.
Results of elections held in five states — Punjab, Uttarakhand, Goa, Manipur and Uttar Pradesh — will be declared tomorrow (Saturday, March 11).