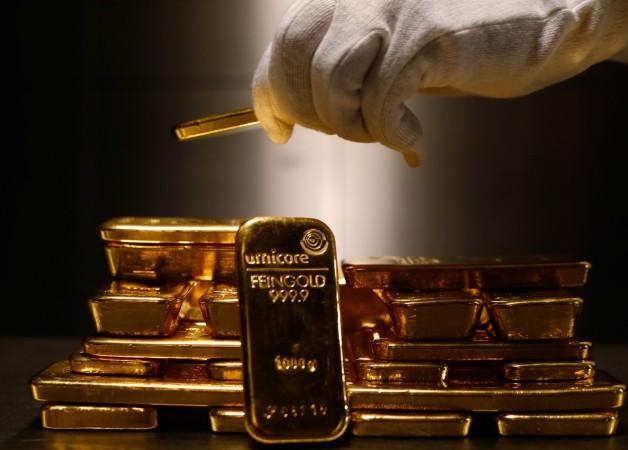 Persistently soft demand for gold in Asia has stoked worries that buying will fail to pick up in the second half of the year, when it is normally stronger, bullion traders and dealers said.
Demand in top buyers China and India fell about 50 percent and 40 percent respectively in the second quarter from a year before, according to a World Gold Council report this week.
Buying has not increased in any big way in the third quarter due to lower price volatility, and premiums in major consumers have remained unchanged in the past few months, traders said.
"The weakness we are seeing is right across the board in Asia," said a Hong Kong-based trader with a global bullion bank. "We could see some buying if prices fall to $1,200 to $1,250 but even then we are not very optimistic."
Gold prices were firmly above $1,300 an ounce on Friday. The metal has gained about 9 percent this year on geopolitical tensions.
"Chinese demand in particular has been very weak since April and it has largely remained so until now," said a Singapore-based trader at a bullion bank.
"September orders have been very weak so far and we suspect there won't be much buying by banks before the Chinese New Year as well."
China, which overtook India as the biggest consumer of the precious metal last year, imported over 1,000 tonnes of gold in 2013.
Banks are well stocked because of those purchases, leading to a drop in imports this year. China's net overseas purchases of gold through key conduit Hong Kong fell to a 17-month low in June.
"Investment and jewellery demand has been hit because of lower volatility and as consumers are unsure of the price outlook," said Jiang Shu, an analyst with Industrial Bank, one of the few banks allowed to import gold into China.
"Smaller jewellery pieces are selling relatively better but investment bars are seeing little interest," he said, adding that the crackdown on corruption in China had also had an impact on demand.
In second-biggest consumer India, traders were a bit more confident about demand.
The Dhanteras and Diwali festivals, along with the wedding season, would stoke buying interest in the second half, they said.
Imports could average about 50 tonnes a month for the rest of the year, higher than the comparable period in 2013, the Singapore-based trader said.
Indian imports in the past year have been hit by a record-high import duty of 10 percent and rules that required a fifth of all imports to be re-exported. The measures were put in place to control India's ballooning trade deficit.
But recently the Indian central bank has allowed "star trading houses" - private jewellery exporters that had been barred from importing gold since July 2013 - to resume imports, a move that has boosted volumes.
Local premiums to the global benchmark in India were less than $10 an ounce, unchanged from last week. Premiums in Hong Kong, Singapore and Tokyo were also steady.