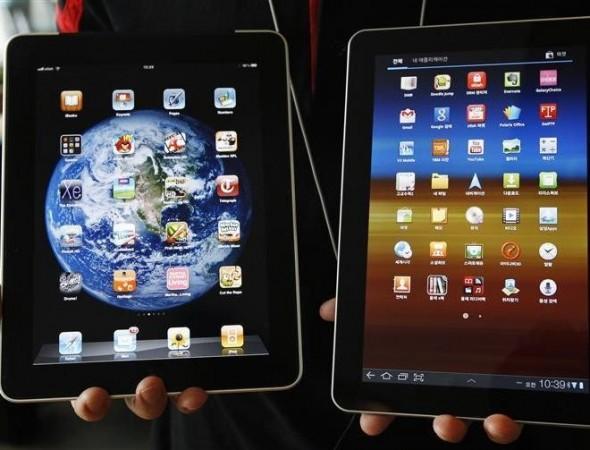 Global tablet vendors shipped a total of 35.2 million units in the first quarter of 2016, a 35 percent decline from previous quarter and a 7.9 percent drop from the first quarter of 2015, a TrendForce report has said.
American technology behemoth Apple shipped 10.3 million tablets, 5.8 million units less than the previous quarter. Despite the slowdown, the Cupertino-based firm held on to the top position in the top tablet-makers' chart.
Apple's arch-rival Samsung shipped 6.5 million units and settled for the second position, whereas Amazon (2.2 million units), Lenovo (2.2 million units) and Huawei (2.0 million units) secured the third, fourth and fifth slots, respectively, in the list.
Microsoft and Asus shipped 1 million and 0.9 million tablets in the first quarter of 2016 and managed to secure the sixth and seventh positions, respectively, in the top global tablet brands list.
The slowdown of tablets, especially the devices with around 7.0-inch size, saw a huge dip in demand due to the advent of big-screen smartphones. Last year, this segment accounted for more than 51 percent of total tablet shipments, but in 2016, it has come down to less than 40 percent, TrendForce analyst Anita Wang noted.
Also read: Global smartphone shipments witness flat growth in Q1 2016: IDC
Big-screen tablets (11.0-inch or more) such as Apple iPad Pro and Microsoft Surface Pro series were able to attract more buyers in the first quarter, but TrendForce predicts that tablet shipments will continue to decline in the second quarter of 2016.
Also read: Apple's revenue drops for the first time since 2003; slump in iPhone sales responsible?
On the bright side, Apple and Asus are expected to register positive growth of 11 percent and 19 percent next quarter, TrendForce said.
Tablet shipments by brands Q42015-Q42016:
Company
Shipment (in millions)
Q-o-Q
4Q2015
1Q2016
2Q2016 (Expected)
1Q2016
2Q2016(Expected)
Apple
16.1
10.3
11.4
-36%
11%
Samsung
9.3
6.5
5.3
-30%
-19%
Amazon
4.2
2.2
0.8
-47%
-63%
Lenovo
3.0
2.2
2.1
-26%
-5%
Huawei
2.2
2.0
1.7
-10%
-13%
Microsoft
1.4
1.0
0.6
-28%
-37%
Asus
1.3
0.9
1.1
-30%
19%
Others
14.5
7.6
8.5
-47%
-12%
Total
54.2
35.2
33.6
-35%
-4%