Gujarat Lions will host former champions Kolkata Knight Riders (KKR) in their first match of IPL 2017 at the Saurashtra Cricket Association Stadium in Rajkot on Friday, April 7. Both teams reached in playoffs in IPL 2016 but failed to progress to the finals. This time, both teams will begin with the determination to go all the way to the finishing line in the competition.
However, both Gujarat Lions and KKR have been been hit by injury and other problems ahead of their opening match, and will miss some of their key all-rounders. In fact, both teams will miss two key Caribbean players.
The Lions will be without the services of Dwayne Bravo, who is still recovering from an injury. One does not know when he will be represent Suresh Raina-led side in IPL 2017. It is even worse for KKR as Andre Russell, their star last season, will be out for entire length of IPL as he is serving a one year ban for doping-code violation.
Also Read: Expected playing XI for GL vs KKR match
These are big shoes to fill in their respective teams, and let us try to analyse who could be a bigger miss on Friday?
Batting
Russell is one of the biggest finishers of the game as he showed that a number of times last season, scoring 188 runs. It is this special attribute of Russell, which KKR will miss the most. The West Indian was also used as a floater, and was moved up the order to accelerate the scoring.
Who needs to step up in this role for KKR ? Yusuf Pathan.
Bravo has the knack of scoring important runs, and his presence in the middle always gives their team the confidence to deliver as he can change his game accordingly. He can play spinners and the pacers quite well to score runs at a decent rate.
Who needs to step up in this role for Gujarat Lions? James Faulkner.
Conclusion: KKR will miss Russell's firepower in the batting department.
IPL 2016 batting performance

Russell: 188 runs in 12 matches @ strike rate of 164.91

Bravo: 99 runs in 15 matches @ strike rate of 120.73
Bowling
Again, Russell was brilliant last season, picking up 15 wickets. He also opened the bowling for KKR last season at times. The franchise, realising his absence, did a good job in the IPL 2017 auctions. They bought Trent Boult and Chris Woakes, who are both quality bowlers, giving the management the hope to fill up Russell's void in the bowling department.
Who needs to step up in this role for KKR? Trent Boult.
Bravo is the best in the business when it comes to bowling at the death. He has all the varieties including a brilliant slow bouncer to deceive the batsmen. It is his change in pace, which most of the times helps him pick wickets. Without Bravo, they might struggle at the fag end of the innings to contain the batsmen.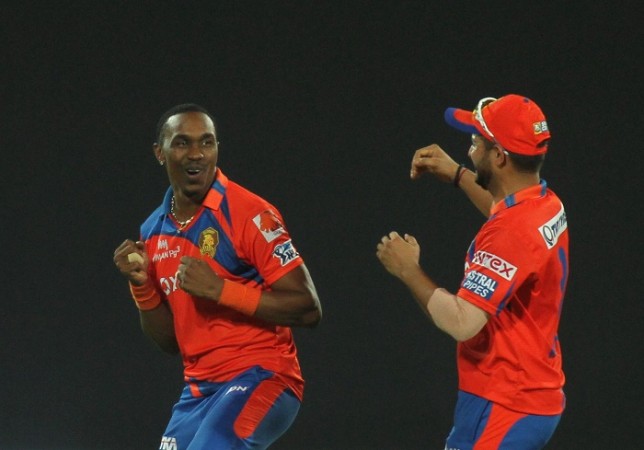 Who needs to step up in this role for Gujarat Lions? Praveen Kumar
Conclusion: Bravo's absence during the death overs could hurt Gujarat Lions badly
IPL 2016 bowling performance

Russell: 15 wickets in 12 matches @ an average of 19.40

Bravo: 17 wickets in 15 matches @ an average of 29.05
Fielding
Fielding is always an important element in cricket, and especially in T20, where saving a single run in the field could eventually decide the match's outcome. Russell and Bravo are two athletic fielders, and have taken some brilliant catches in the deep besides saving key runs on the field.
Who needs to step up? All the players on the field from both GL and KKR have to give their best in the field, save runs and not drop catches.