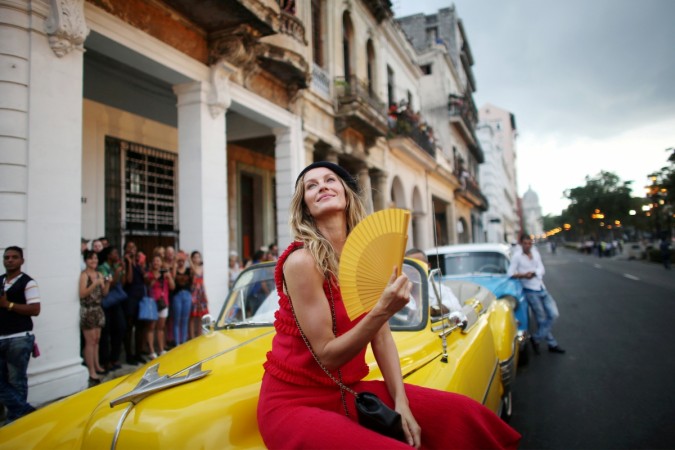 Supermodel Gisele Bundchen was recently spotted in Brazil on a photo shoot flaunting her gorgeous figure in an aqua blue dress that has also given rise to pregnancy rumours. Bundchen's dress was a bit tight in the midsection that also showed off a bump, and netizens were quick to speculate if Bundchen was pregnant with her third baby.
Neither Bundchen nor her husband Tom Brady, the New England Patriots quarterback, has confirmed this news. But according to a friend of the former Victoria's Secret model, the timing is right.
"Everyone thinks she's probably pregnant again," the friend told OK! magazine. "Gisele loves being a mom, and she's always wanted a ton of kids." Even Brady is apparently "into the idea of having a big family," the insider revealed. "Initially he and Gisele wanted to aim for a child every three years. With his Deflategate scandal last year, they got a little sidetracked, but now they're ready."
Bundchen and Brady are parents to Benjamin and Vivian and Brady has a nine-year-old son named John with actress Bridget Moynahan.
In an interview last year, Bündchen said she considered leaving Brady after finding out his ex-girlfriend Moynahan, was pregnant with his child in 2007. "It was a challenging thing because here I am, you know, thinking, I'm dating this guy, we met, and we started dating and everything is great and then this happens," Bündchen revealed during an interview with CBS This Morning's Charlie Rose. "So, then I felt like I didn't know what to do. It was kind of one of those moments of like, 'Do I just run away?'"
However, she decided to stick around. "I think, now, eight years later, I couldn't have asked for a sweeter bonus child," Bündchen said.