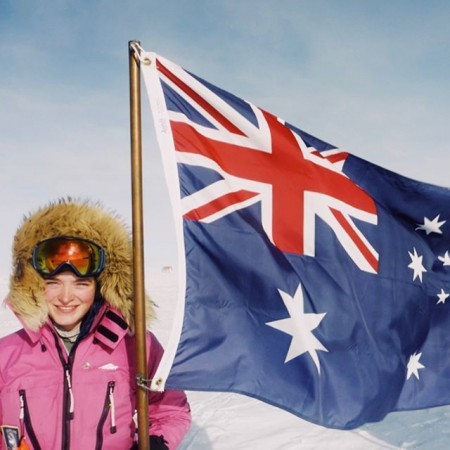 How many of you girls have heard the sexist phrase "make me a sandwich"? How many times has it made your blood boil? The next time this happens, take a leaf out of this 16-year-old Australian explorer's book and give the best reply to men who think low of women.
Australian skier Jade Hameister gave the coolest reply when she was asked by men to go and make a sandwich after her TEDx talk two years ago, where she spoke about her Polar Hat Trick journey and encouraged other women to follow their dreams.
Also read: Wonder Woman screening turns sexist as dish cleaners, weight reduction pamphlets were gifted to attendees
She posted a picture on Instagram of herself, smiling and holding a sandwich standing amidst the icy desert of the South Pole. She also wrote "... I skied back to the Pole again... to take this photo for all those men who commented 'Make me a sandwich' on my TEDX Talk. I made you a sandwich (ham & cheese), now ski 37 days and 600km to the South Pole and you can eat it."
The picture has garnered more than 5,600 likes and hundreds of people have commented on it, applauding her for this reply.
A user named 'bipanebi' said: "You are straight up amazing!! It is we who should be making you a sandwich... or whatever you might fancy after your sunday walk on the beach!! Keep doing what you are doing, you are a true inspiration to all!"
Another user, 'petycm', said: "You are awesome, inspirational, and have a witty sense of humour. Keep going, brighter things are still on your way!"
Also read: Sick of dealing with your sexist co-worker? California girl Azita Rahman shows how it's done!
Jade Hameister became the youngest person to complete the Polar Hat Trick by exploring the North Pole, South Pole, and the Greenland ice sheet. She hails from a family of polar adventurers and now has joined the select group of Arctic and Antarctic explorers who have successfully finished the Polar Hat Trick.
Check other pictures from her expedition below: