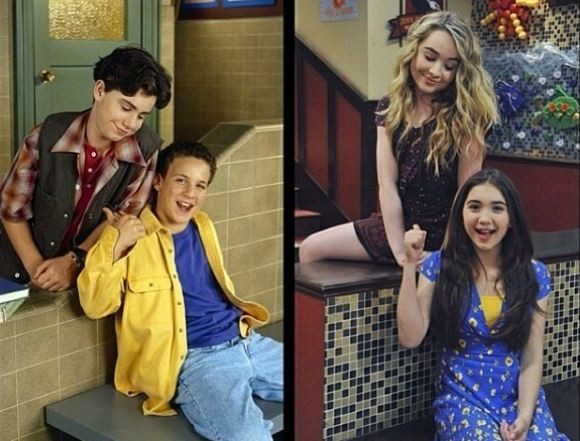 Season 3 episode 7 of "Girl Meets World," which was aired on Friday, July 15, saw Maya (Sabrina Carpenter) finally finding out her true self. Now, there is nothing stopping the girls from figuring out who gets to date Lucas (Peyton Meyer).
It is understood that the gang will be taking a trip to the infamous ski lodge, where Cory (Ben Savage) kissed someone other than Topanga (Danielle Fisher) and effectively broke them up for a short period. Here, the friends will most likely resolve their love triangle, and hopefully, to make matters simpler, Josh (Uriah Shelton) will be present.
In a video shared by the Wrap, we see Riley (Rowan Blanchard) contemplating about the evolution of life while cradling a dry leaf. She is reminded that everything comes to an end and new beginnings are detrimental for evolution. Lucas comments on how romantic she is and Riley replies, "I am... I love romance. This triangle has do die right now."
Although Lucas and Maya do not seem to be on the same page, Riley explains that they need to get it over with. They have tried coming up with a solution to this without hurting anyone many a times, but it has never worked out in their favour.
Also Read: 'The Flash,' 'Supergirl,' 'The 100' and other CW shows at Comic Con 2016
Maya and Riley is of the opinion that with the return of true Maya, they could finally resolve the situation. However, Lucas points out that there is now one more person in the equation, Maya's first love, Josh aka Uncle Boing.
A shared by Entertainment Tonight shows that Josh is also at the lodge with the gang. Since Cory is the chaperone for the trip, it is safe to assume that Josh would have been roped in as paid help. After all, he is in college and in dire need of money to spend on parties.
The "GMW" writers could be pointing towards a Joshaya future, but as of now, Maya does not seem to think it is a possibility. "Boing has nothing to do with this. Okay? He is just a fantasy. You don't go out with a fantasy. You only think about them all the time," Maya explains to Lucas.
Don't forget to watch new episodes of "Girl Meets World" Fridays at 8:30 p.m.(EST) on Disney Channel.