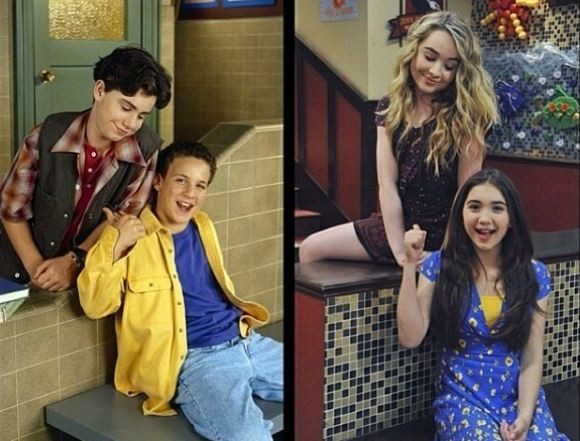 Spoilers for "Girl Meets Upstate" and "Girl Meets True Maya" ahead
"Girl Meets World" returns with Season 3 episode 6 titled "Girl Meets Upstate" on Friday, July 8. The episode will see the return of Shawn (Rider Strong) and along with it, his engagement to Katy (Cheryl Texiera).
The episode will see Maya (Sabrina Carpenter) and Riley (Rowan Blanchard) trying to recover the old Maya from various layers of Riley; figuratively of course. The two friends go to the one person who Maya identifies with and that is good old uncle Shawn.
However, they realise that even Shawn has been tarnished by his years of friendship with Cory (Ben Savage). In the end Shawn realises that he needs Katy and Maya in his life to be happy and proposes to Katy.
Fans were worried that Angela (Trina McGee) might return to ruin the relationship between Shawn and Katy. But McGee tweeted regarding the engagement:
@lucasfriar2 so do I. I feel happy for the characters too. I feel sad for u. Youre a class bully gloating. Give me love please. I give back.

— Trina McGee (@realtrinamcgee) July 1, 2016
Moreover, Angela herself had returned in Season 2 and had told Shawn to chase Katy if she was "the one."
Maya is still unsure of who she is and will be seen exploring that in the next week's episode, "Girl Meets True Maya." Although Lucas had made a decision regarding who he wants to date, Maya stops him from revealing the name. She says she had been Riley for the past few months regardless of which girl he chooses, he would have chosen Riley.
This hints at the fact that Lucaya is truly dead and the real OTP of "Girl Meets World" is Rucas. Now, confirming the news, the Girl Meets World writers have tweeted that Josh will be making a comeback to the show. He will bring life to Joshaya.
Don't forget to watch Season 3 episode 6 of "Girl Meets World" at 8:30 p.m.(EST) on Disney Channel. You can also live-stream the episode via Disney Go.