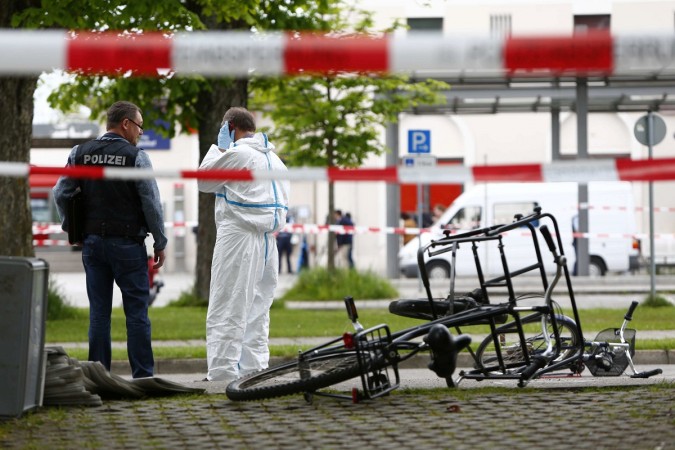 Isis claimed responsibility on Tuesday for an attack by a 17-year-old Afghan refugee. The terror outfit, also known as Daesh, posted a statement through its Amaq News agency claiming responsibility for the attack. However, top German security officials said that the note found in the attacker's room indicates that he may have been self-radicalised.
At least five people were injured in a train close to Wurzburg in southern Germany on Monday night after the teenager attacked them with an axe and a knife. The attacker has been identified as a 17-year-old Afghan refugee, who was a resident of a nearby town, Ochsenfurt. He was shot dead by the police as he was trying to flee.
Shortly after arriving at Wurzburg, a man attacked passengers with an axe and a knife," a police spokesman said.
At least four people were critically injured in the attack while 14 were in shock.
This attack comes on the heels of the Nice attack, which too was done by an individual, who had pledged allegiance to the Islamic State of Iraq and Syria. Investigation about the attacker in Germany is ongoing and no apparent terror links have been reported yet.
It is quite probable that this was an Islamist attack," said a ministry spokesman. He also added that the attacker had apparently shouted "Allahu akbar" (God is greatest) when he hacked at people.
The attacker was an unaccompanied minor who came to Germany, Bavarian Interior Minister Joachim Herrmann was quoted as saying by BBC.
A similar incident had occurred in May when a man killed one person and wounded three others by stabbing them at a railway station in Munich.
Geert Wilders, a Dutch politician and the founder and leader of the Dutch Party for Freedom, who has positioned himself as the prime ministerial candidate for the 2017 elections in Netherlands, tweeted, "17 year old Afghan 'refugee'. Because our so called leaders will not close our borders. No more Islam, No more."
Europe has been tensed since being hit with multiple terror attacks across the continent and the migrant crisis became difficult to contain. The flow of migrants has reduced since the deal with Turkey, but there exist hundreds, maybe thousands, of those who languish at refugee camps, and seek entry into the nation. Security has also been a major issue as Isis fighters enter Europe in the guise of migrants. The twin problems plaguing Europe has had an adverse effect on the continent's view on Islam, which leaders like Marine Le Pen and Wilders echo.