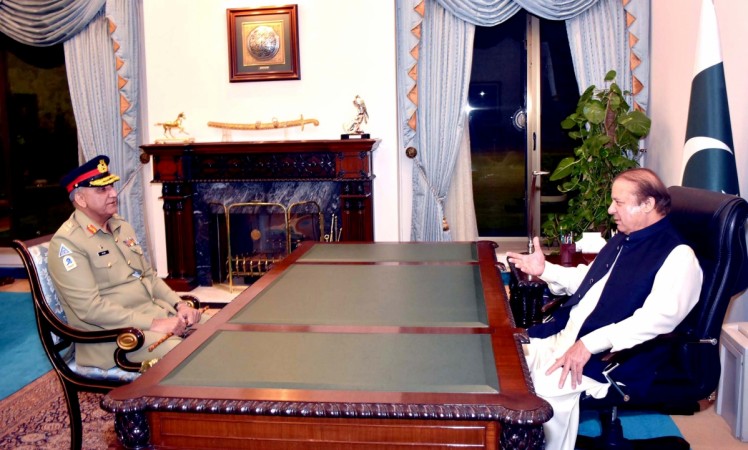 The ceremony to welcome Pakistan's newly named army chief, Gen Qamar Javed Bajwa has begun in Rawalpindi on Tuesday. He will assume command of the Pakistani army in the backdrop of rising tensions with India and the apparent popularity of the outgoing chief, Gen Raheel Sharif.
Gen Bajwa, a career infantry officer has been reported to be a "thorough soldier" and someone who prefers to keep civil and military separate, something that the Pakistani Prime Minister Nawaz Sharif might have as an important facet for him to pick Gen Bajwa.
Gen Bajwa had previously commanded the all important X Corps, which is the largest force and responsible for the area along Line of Control (LoC), the de facto border dividing Kashmir and Pakistani-occupied Kashmir.
Before his appointment, Gen Bajwa was considered as a dark horse.
The Pakistani Army chief is a powerful institution in the country where military has staged three coups and military generals have ruled the country. Even though the PM is the head of the country's executive, it is the army that controls issues related with domestic-security, spy agency (ISI).
10 things to know about Gen Qamar Bajwa:
Gen Bajwa takes charge over the sixth-largest army in the world by numbers on Tuesday as the 16th army chief.
Gen Bajwa was chosen over three contenders, Lt Gen Zubair Hayat (army's chief of general staff), Lt Gen Ishfaq Nadeem Ahmed (Corps Commander Multan) and Lt Gen Javed Iqbal Ramday (Corps Commander Bahawalpur).
As former commander of X Corps, he is said to have had extensive experience in handling matters relating to the Kashmir region and the northern areas.
Gen Bajwa belongs to the Baloch Regiment, becoming the fourth officer to be the army chief. The previous ones from the regiment included Gen Yahya Khan, Gen Aslam Beg and Gen Kayani.
He could be more persuasive against domestic armed groups than his predecessor, Gen Raheel Sharif, who launched Operation Zarb-e-Azb in North Waziristan.
Gen Bajwa was serving as the Inspector General of Training and Evaluation in General Headquarters at Rawalpindi, something that Gen Sharif too held before becoming army chief.
Unlike his predecessor, Gen Sharif is a popular figure in social media space in Pakistan, but Gen Bajwa has "zero presence" on social media. The current accounts under his name are said to be fake.
Gen Bajwa has a moderate view of the relationship with the civilian government, according to the Dawn, a Pakistani daily. He is reportedly prefers army not "intruding" into the civilian space.
Former Indian Army chief Gen Bikram Singh has praised Gen Bajwa as a "professional" and "outstanding" soldier. Gen Bajwa had worked under him during UN's Congo assignment as brigade commander.
Another top Indian Army officer noted that Gen Bajwa was well-versed with the "complexities, nature of operations and terrain along the LoC." However, he added, "But it's actually too premature to say anything. Both Generals Pervez Musharraf and Kayani proved different from what their initial assessments were."
Related