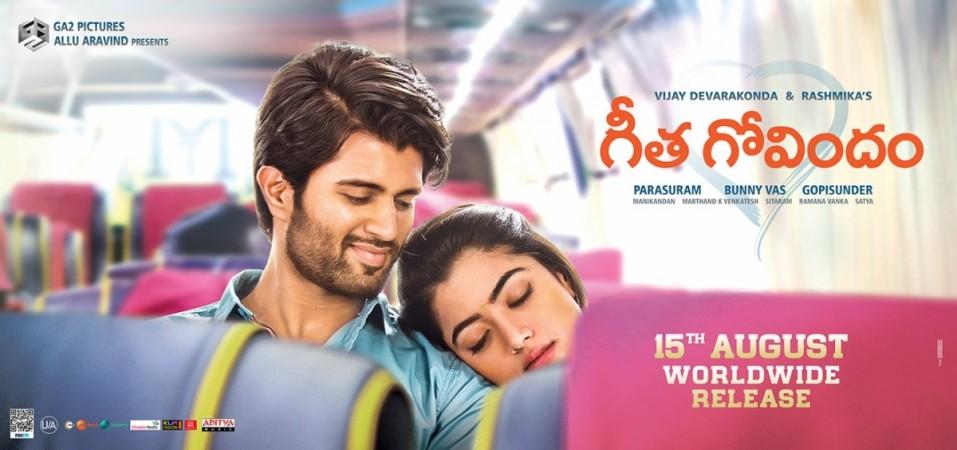 Geetha Govindam, starring Vijay Devarakonda and Rashmika, has received brilliant opening at the US box office and smashed first week collection record of Kamal Haasan's Vishwaroopam 2 on its first day.
Movies like Arjun Reddy, Pelli Choopulu and Mahanati have a huge fanbase for Vijay Devarakonda in the US and the promos of Geetha Govindam had created a lot of curiosity among his fans in the country. The distributors, who shelled out hefty sums on theatrical rights, released the film in over 160 screens on Wednesday, Aug 15. They also held premiere shows in the country on Tuesday, Aug 14.
Having good advance booking, Geetha Govindam opened to fantastic response and collected $398,962 at the US box office in the premiere shows. Idlebrain Jeevi tweeted, "#GeethaGovindam collects $398,962 from 156 locations with per location average of $2,557 in USA on Tuesday! Huge number for Vijay D and 4th highest premiere gross for a Telugu cinema in USA this year! Superb "
Vijay Devarakonda garnered positive talk from the audience and the word of mouth helped it remain strong at the ticket counters on Wednesday. As per early hour updates, Geetha Govindam has collected $173,877 at the US box office on the first day, taking its total collection to $572,839. This number is likely to go up, when the final numbers are released by its distributors.
Idlebrain Jeevi tweeted, "#GeethaGovindam hourly gross at 8 pm PST in USA on 15 August is $173,877. Excellent number and crosses half million mark. Total gross as of now is around $570k. It's just Wednesday! "
Vishwaroopam 2, which was released on August 10, collected $372,124 at the US box office in its opening weekend. Having witnessed steep decline, the Kamal Haasan starrer is estimated to have collected $40,000 in the country in the next three days. Its six-day total collection stands approximately at $412,124. Geetha Govindam shattered this record on its premieres day.
Vijay Devarakonda's Pelli Choopulu and Arjun Reddy have collected $1,223,000 and $1,777,900, respectively, at the US box office. Current pace of collection shows that Geetha Govindam is likely to beat the record of Pelli Choopulu in its opening weekend. The movie is expected to beat Arjun Reddy in the coming days.