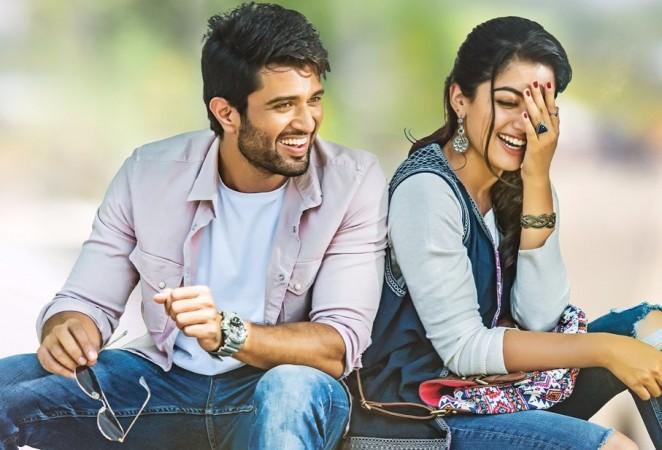 Film critics have said that director Parasuram has chosen a tried and tested story for Geetha Govindam, however, it is Vijay Devarakonda and Rashmika Mandanna's chemistry and some comedy scenes, that is the saving grace of this film.
Geetha Govindam revolves around the story of an innocent guy named Govind (Vijay Devarakonda), who is a lecturer by profession. He falls in love with his dream girl Geetha (Rashmika Mandanna) and tries hard to woo her. Geetha rejects his advances thinking he is a womaniser. How he wins her love forms the crux of the story.
The critics have said that Geetha Govindam deals with a tried and tested story, but the director makes it an engaging and entertaining film with some romance and comedy scenes. Vijay Devarakonda and Rashmika Mandanna have done decent work and their chemistry is the highlight of the movie. Vennela Kishore's comic timing is another attraction of the movie.
The critics added that the good production values are other big positives for Geetha Govindam. Music picturisaion and dialogues are the done well on the technical front of the movie, which has been rated an average of 3.20 out 5 stars.
We bring you some critics' verdict and ratings for the film. Continue to see them in Geetha Govindam review roundup:
123 Telugu Rating: 3.5
Geetha Govindam is a well-made romantic comedy which lives up to all the hype and expectations. It has rich entertainment at regular intervals and there is no denying the fact that Vijay Devarakonda will reach to the top bracket of stars as he is a terrific actor who can portray any role and is adorable in this film. If you ignore the slightly slow pace in the second half, this film has success written all over it and will entertain you thoroughly. Go for it.
Telugu 360 Rating: 3.25
Geetha Govindam has a trite storyline, but the director keeps you engaged with lovable scenes between the lead pair and good comedy, especially during the latter part of second half. Vijay Deverakonda's characterization and youthful comedy elements are the USP of this film.
India Glitz Rating: 3.25
Geetha Govindam tells an atypical story using a regular format. And it works. Parusuram enlivens the proceedings by infusing comedy at almost every step. Vijay Deverakonda and Rashmika elevate the film with their splendid performances.
Hindustan Times Rating: 3.5
Geetha Govindam is not about universe conspiring to bring you close to your loved ones, it is about how coincidences can come to bite your behind.
Chitramala Rating: 2.5
Though first half of the movie seems fine for the comedy and timing of Vijay Devarakonda and his chemistry with Rashmika, second half plays the spoilsport. It is purely saved by the comedy and weak script and writing is disadvantage here. To sum up, Geetha Govindam is a one time watchable movie which is saved by Vijay Devarakonda.