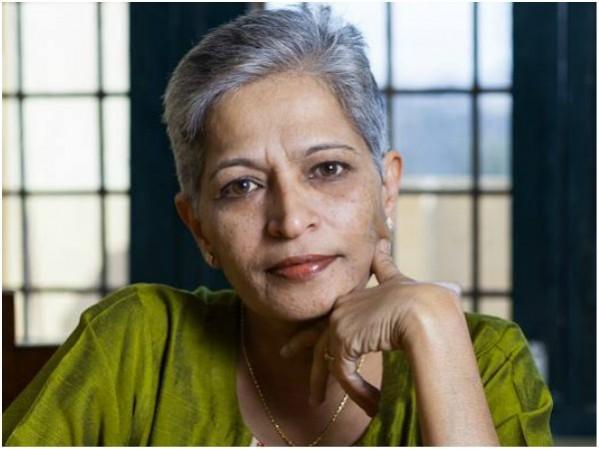 As over nine months have passed since the brutal murder of journalist and activist Gauri Lankesh, the Special Investigation Team seems to be inching closer towards finding a link between the alleged shooter and pro-Hindutva outfit Sri Ram Sene.
SIT sleuths had arrested 26-year-old Parashuram Waghmore, who is believed to have pulled the trigger on Lankesh. In a major breakthrough, a photograph showing Parashuram with Sri Ram Sene's chief Pramod Muthalik has been making rounds on social media.
However, Muthalik has completed rubbished any allegations that suggest that he knows Waghmare, according to a The News Minute report.
"No, I don't know him. Thousands of people click photos with me. Where ever I go, they click pictures. When I am walking on the road, people will come and click pictures with me. When I go to a hotel, they click pictures with me, in my house also they come and click pictures. So based on these photos, one cannot say that he is our (Sri Ram Sene's) activist," Muthalik told TNM.
"He is an accused now. Let there be an inquiry. In the past also the police have arrested several pro-Hindutva activists and tortured them during questioning. Let them prove it in court first and if he is found guilty then he must be punished. Until then, we cannot say anything," Muthalik was quoted as saying by TNM.
According to Republic TV, the picture is believed to have been shot in 2012 at Vijaypura district in northern Karnataka. This is the same place where the suspect, Waghmore, hails from.
Waghmore was presented before the 3rd ACMM court following which the judge remanded him to 14 days in custody on June 12. The SIT had told the court that he was directly involved in the crime.
In March 2018, six months after the murder, the SIT sleuths arrested a key accused named Naveen Kumar. In his confession, he had mentioned four other associates who were identified as Manohar Edve, Sujith Kumar alias Praveen, Amol Kale alias Bhaisab, and Amit Degwekar alias Pradeep.
Two of them were arrested from Karnataka while the other two were detained from Pune and Goa.
The murder of Gauri Lankesh created a nation-wide outrage. She was shot dead in front of her house. Lankesh was a renowned Kannada journalist known for her strong anti-Hindutva stand.