Jose Mourinho has publicly revealed his interest in signing Gareth Bale from Real Madrid. The Welshman has been constantly linked with a move back to the English Premier League, after a disappointing season in Spain.
If Bale does decide the time is right to return to the Premier League, where he shone in a Tottenham shirt, Manchester United are seen as his obvious destination, and Mourinho made that clear by speaking about the forward in his pre-match press conference for the UEFA Super Cup.
Asked if he would be interested in signing Bale, Mourinho said he is ready to 'fight' for the 28-year-old.
"Well if he's playing (against Manchester United in the Super Cup), no (I won't sign him). It's because he's in the coach's plans and because he also has that motivation to continue at Real," Mourinho said.
"If he is not in the club's plans, that with the arrival of another player would mean he was on his way out, I will try to be waiting for him on the other side and fight with other coaches that would want him.
"But if he plays, that is the best confirmation he is wanted by the team."
There are still doubts over if Real Madrid manager Zinedine Zidane sees Bale as an option in the upcoming season. The European champions are still trying to work out a deal for Kylian Mbappe from Monaco, and the feeling is if that deal goes through, then Bale will be sold.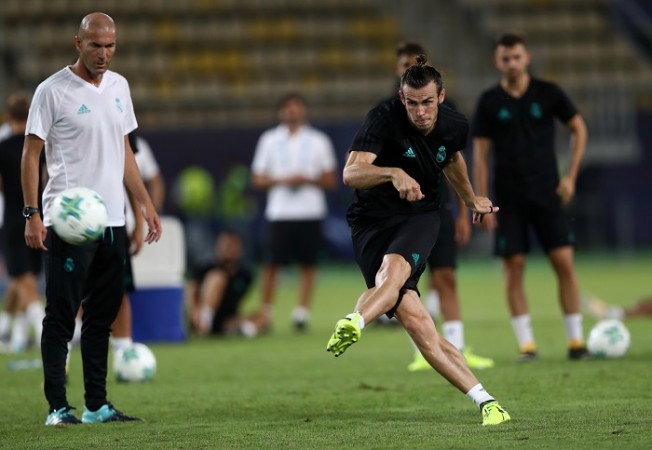 Bale suffered an injury-hit campaign last season, but that won't stop Premier League clubs from queuing up for his signature. Apart from Manchester United, Chelsea are also thought to be interested, while Manchester City, no doubt, will also want to throw their hat into the ring.
Arsenal manager Arsene Wenger is also a big fan, but a move for the Welshman is unlikely, with Bale not wanting to upset Tottenham fans by signing for their biggest rivals. Spurs have an option on signing their former player, but if other big clubs were to come in with a bid, they are unlikely to be able to compete.
If Bale decides to leave Real Madrid, his most likely destination will be either Manchester United or Chelsea.