The Aam Aadmi Party (AAP) addressed a press conference on Monday (May 8) over sacked minister Kapil Mishra's allegations against Delhi Chief Minister Arvind Kejriwal. Meanwhile Mishra tweeted on Monday saying that he would make an "important announcement at 5 pm." He also said that his next move would be to file a case in the alleged exchange of illegal cash between Kejriwal and Jain.
Mishra, who was sacked as the Water Minister of Delhi on Saturday, May 6, held a press conference on Sunday, May 7, wherein he claimed that he saw Health Minister Satyendar Jain pay Rs. 2 crore to Kejriwal in his presence. He also alleged that Jain "has settled land deals worth Rs 50 crore for Kejriwal's relatives" and that when he asked the Delhi CM about the money, he was told that a lot of things "happen" in politics that "cannot be explained." On Monday, Mishra submitted evidence to the Anti-Corruption Bureau (ACB) in connection with the water tanker scam.
AAP leader Sanjay Singh addressed the media calling Mishra a "BJP agent" and the allegations levelled against Kejriwal baseless and lacking in facts. "A game of humiliating the Aam Aadmi Party is being played. Kapil Mishra has blamed Arvind Kejriwal of taking a bribe but I want to know why would Kejriwal call Kapil Mishra to see that? Mishra claims he went to the CM's house, but he is not mentioning the time of his visit," Singh said.
The party's senior leader showed a letter by Mishra dated September 24, 2016, in which "he has questioned the working of the ACB." Singh said that Mishra had accused the ACB of "trying to frame" Kejriwal and that the investigating agency was under pressure to name the Delhi CM.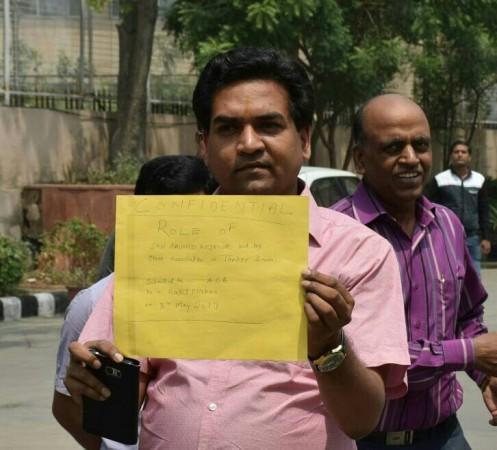 "Kapil Mishra has always objected to the ACB targeting Arvind Kejriwal. The ACB comes under the central government. Does that mean Kapil Mishra is reading BJP's script?" Singh said, asking Mishra as to why Kejriwal would "invite" him to witness the alleged exchange of cash taking place.
Singh also attacked the BJP-led central government saying that the party's "priorities are misplaced. They want to finish the AAP and not terrorism at the border." He said the BJP is only focused on stifling the Opposition and is not bothered about the external and internal threats to the country. He further added that the Centre has consistently tried to implicate AAP in false cases.
"Arvind Kejriwal has said that he can be thrown out of the party if he has done something wrong. Even Manish Sisodia or I can be thrown out if we do something wrong. The Aam Aadmi Party has been elected with 67 out of 70 seats in Delhi. Who is the BJP to ask for CM's resignation?" Singh said while addressing reporters in Delhi.
Singh further added that those who have been involved in a slew of scams themselves have no right to demand the resignation of the Delhi CM. He added that the party was ready for investigation in the matter.
Meanwhile, the Delhi unit of the BJP has filed a complaint against Kejriwal before the Delhi Lokayukta, BJP spokesperson Rajiv Babbar told reporters. He also said that Leader of Opposition in Delhi Assembly Vijender Gupta, along with four other MLAs, will meet Lieutenant Governor Anil Baijal on Monday (may 8) evening and submit documents related to the water tanker scam.
Gupta has alleged that both the Congress and the AAP are "hand in glove" in the alleged Rs 400 crore water-tanker scam that took place when Congress' Sheila Dixit was the chief minister of Delhi in 2012. Meanwhile, Delhi Congress chief Ajay Maken will reportedly hold a press conference at 2 pm on Monday to provide details of the measures taken by the party to expose corruption in the Kejriwal-led AAP.

Reality show participant and self-styled guru Swami Om has also filed a complaint against Kejriwal at the ACB. He told reporters that an investigation should be launched against the Delhi CM for charges of gathering huge amounts of wealth and his involvement with Naxalites. ACB officials were quoted by the Hindustan Times as saying that they have not ordered any inquiry against Kejriwal on Om's complaint since the self-styled guru did not provide any evidence to support his allegations.