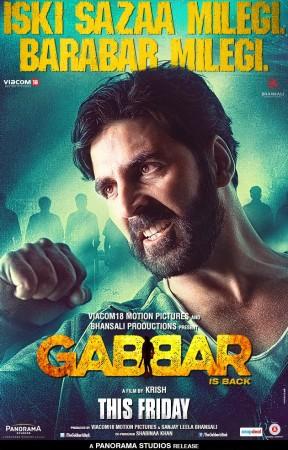 Akshay Kumar, who is known as the boss of the masses, is back with a masala entertainer film. "Gabbar Is Back" is a masala entertainer starring Akshay and Shruti Haasan in lead roles.
In the film, Akshay plays the role of Gabbar, who hunts the corrupt and seeks justice for people. Directed by Krish, the film also features Kareena Kapoor Khan in important role.
Talking about critics' review, the film has failed to impress them with its storyline. Akshay and Shruti have given their best in the lead actors' performances, but the weak storyline and dialogues makes it an average entertainer.
Check out the detailed review of the critics below:
Rohit Vats of Hindustan Times said: "Gabbar Is Back is a full on 'masala' film with a lot of applause worthy scenes. The buck stops at Akshay Kumar."
Shubhra Gupta of The Indian Express said: "I've said this several times, but I'm ready to implore again: can Bollywood please, please stop making these tired, tiresome remakes? And let sleeping Gabbars lie?"
Saibal Chatterjee of NDTV said: "Watch Gabbar Is Back only if you are a diehard Akshay Kumar fan."
Bollywood Hungama in its review said: "On the whole, GABBAR IS BACK is an average entertainer which will draw huge footfalls over the weekend due to catchy massy title, action drama and the fact that it is releasing on a holiday."
Mehul S Thakkar of Deccan Chronicle said: "Akshay Kumar has put sincere efforts in every department be it intense or romantic scenes. But all the elements of screenplay, editing, and storyline put together doesn't really help to drive the point back home."
Archita Kashyap of Pinkvilla said: "With an anti corruption theme, and with mass entertainers often getting takers, this film might do well at the box office. But for anyone seeking a decent, entertaining watch, ' Gabbar is Back' will come across as an indifferent reference to Bollywood's most iconic villain."
Manjusha Radhakrishnan of Gulf News said: "While the director and the actor's hearts are in the right place, it would have served the viewers a lot better if they had paid more attention to the script."
Sneha May Francis of Emirates 24/7 said: "There are a handful of forgettable supporting cast, each more inconsequential and obnoxious than the other. Sorry, Akshay! You've given Gabbar a bad name."
Watch Kamaal R Khan's review below: