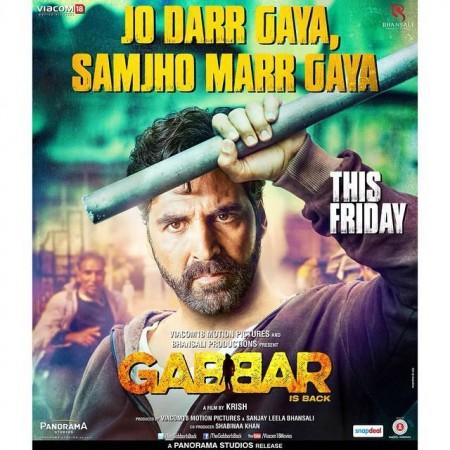 Akshay Kumar churns multiple movies in a year, and they are mostly light-hearted entertainers. Although, they spin money like no other, the content is, more often than not, questionable. But in 2015, he has focussed on his serious side. After "Baby", he is ready with "Gabbar Is Back".
With the action hero in the lead, no one really needs another explanation on why the movie is a must-watch, but they are certain key reasons, which make this action-drama worth the money.
Akshay's fierce look
In his last few movies, he has been seen in a clean-shaven avatar sporting slick hairstyles. But, in this one he has a face full of beard and is oozing good meanness. However, the finished look didn't come easy. The superstar reportedly had to put on 15-16 kilos and took almost 3 months to grow his hair.
The central theme
At the heart of it, the film might be about another social crusader who is looking at wiping the city clean making it a corruption free one, but the teasers and promos somewhat indicate that this one-man army has quirky tactics up his sleeves to do things right.
Kareena Kapoor Khan
Kareena and Akshay have together entertained movie goers for years. Having delivered blockbusters, they are one of Bollywood's most loved pairs.
"She is everything one could ever ask for in a Hindi film actress. Kareena will always know how deeply I appreciate her effort & expertise. I'm sure viewers are going to love her in 'Teri Meri Kahaani'. Bebo has brought a kindness to our film like no other," Bollywood Hungama quoted him as saying.
Shruti Haasan-Akshay Kumar romance
There's always something special about fresh pairings. The new song "Coffee Petey Petey", in which the two are seen nuzzling away like there's no end, is refreshing and assures there's something to look forward to. Also, Shruti's Marathi mulgi look has managed to spike the interest levels considerably.
The 'Sholay'-isms
The 1975 cult film "Sholay" starring Amitabh Bachchan, Dharmendra, Amjad Khan, Hema Malini and Jaya Bachchan have been etched in every B'wood enthusiast's heart. Tapping on the film's popularity, the makers of "Gabbar Is Back" have deftly merged the dialogues of the classic only to give it some edge. Akshay assures there's no similarity between the two films.
"In the film 'Sholay', Gabbar was beating good people but in this film we have used all the Gabbar elements but in a positive way. I have worked with Murugadoss (Holiday) who has written and directed the original film 'Rammana'. He made this film 10 years back and felt the urge to write a film on killing corruption. Corruption still exists. I liked the way of killing corruption in the film and agreed to do the film," PTI quoted him as saying.
"Gabbar Is Back" is set to hit screens on 1 May, Friday.