We all hated it but slowly learned to accept the fact that notches are here to stay. The one company that truly made the notch trend kick off was Apple with its iPhone X in 2017 followed by iPhone XS-series in 2018. Between the two releases, Android OEMs flooded the industry with so many notched display phones that it no longer seemed obnoxious.
Just when we embraced the notch on a display after understanding its worth (placing the camera, crucial facial unlocking sensors and the like), Apple has found a way to completely remove it from future iPhones. This information comes from the US Patent & Trademark Office (USPTO), which adds to the credibility.
Apple's patent for a new smartphone design, complete with a camera and sensor package placed under the display, was unearthed by LetsGoDigital. The USPTO approved Apple's patent on November 8 after it was filed in June and goes on to share detailed information on how the execution will take place.
"Apparatus, systems, and methods for camera integration with a cover glass and for processing cover glass to provide a camera window for an electronic device are disclosed. A camera window can be integrated into the cover glass. The apparatus, systems, and methods are especially suitable for cover glasses, or displays (e.g., LCD displays), assembled in small form factor electronic devices such as handheld electronic devices (e.g., mobile phones, media players, personal digital assistants, remote controls, etc.," the patent description reads.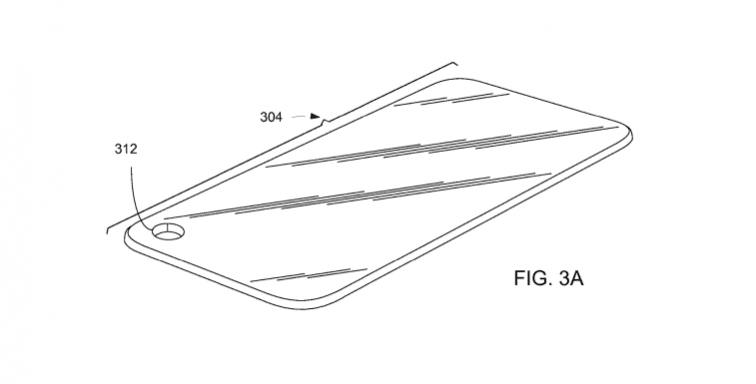 The hole-in display solution by Apple to minimise bezels drastically while incorporating important sensors such as camera and Face ID. This will also allow Apple to finally introduce a full-screen edge-to-edge display soon.
The patent also hints at the material to be used for the display cover glass, which includes aluminosilicate glass (e.g., DVTS from Corning), sodalime, borosilicate, etc. The diagrams shown in the patent demonstrate the in-display camera hole positioned towards the top-right corner, which is odd considering some makers are considering drilling a hole at the top-center.

Samsung, Huawei, LG and Oppo have already filed patents to incorporate the hole-in display for sensors. But it remains to be seen if Apple can beat its rivals in making the new technology commercial.
Apple's next big upgrade to the iPhone lineup is not due until September next year, giving the Cupertino-based tech titan ample time to experiment with the new design. But seeing Apple's history, the company is all about perfection than hurriedly bringing new features to its iPhones. So yes, there's a possibility we won't actually see a truly bezel-less iPhone next year, but the future certainly looks promising.