Several reports and body language experts have been reassuring royal fans that Kate Middleton and Meghan Markle are good friends. Judging by their appearances together at royal engagements (including the Wimbledon attendance wherein they were seen sans Prince William and Prince Harry), royal experts reveal that they share a warm bond.
But what does the Duchess of Cambridge think of Duchess of Sussex? Does she feel threatened by the former Suits actress? Not really, reveals royal expert Katie Nicholl.
Writing for Grazia UK (as reported by Hello!), the royal expert reveals that Kate considers Meghan as a "blessing rather than a threat."
"From showing her the royal ropes and introducing her to some of her favourite designers, such as Emilia Wickstead, Kate has gone the extra mile, all while juggling a particularly busy spell with a new baby," she revealed.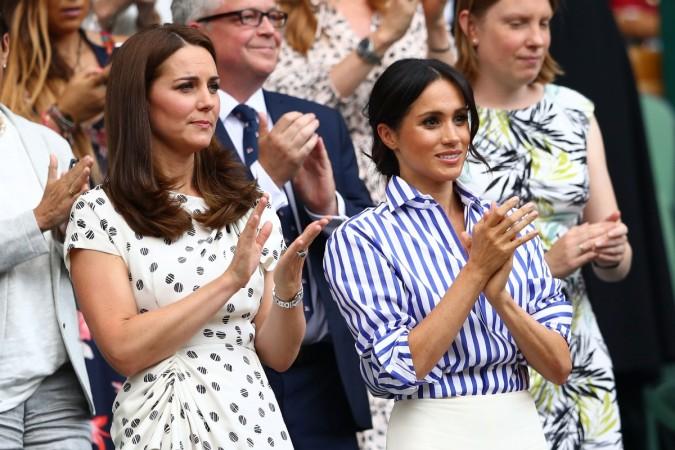 "The two women are believed to see each other at least once a week," over a cup of tea usually, she added.
But ever since Meghan has made her way into the royal family, all the media attention has been drawn to the former actress. Does that impact Kate? Nicholl says Kate is glad that she is not on the spotlight now.
"Having Meghan join The Firm has been a blessing rather than a threat. Friends say that [Kate] is thrilled that the spotlight isn't on her at a time when she wants to enjoy being with her family and remain relatively low-key," she shared. Kate is currently on her maternity leave following the birth of Prince Louis. She has been spotted spending time with Princess Charlotte and Prince George during her maternity leave.

A source also told Nicholl that Harry soughed Kate's seal approval on his relationship with Meghan. "Harry and Kate are very close, she's been like a mentor to him and he wanted her seal of approval. Kate is different to Meghan in many ways, but she has made great strides to help Meghan settle in," an insider said.