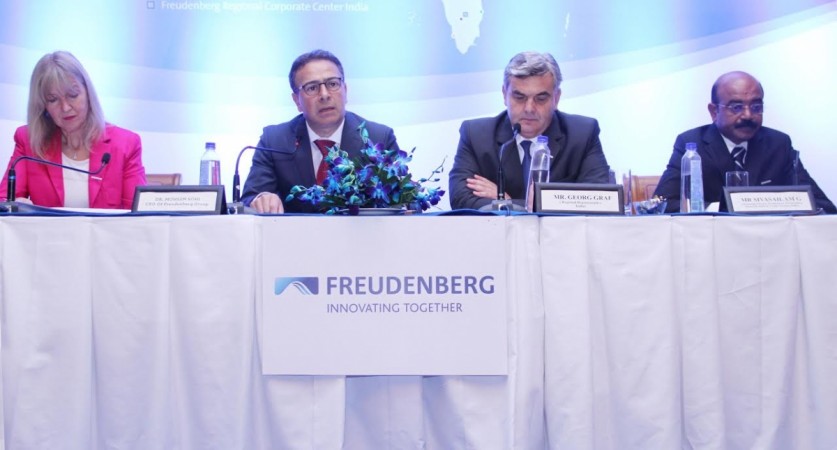 The Freudenberg Group continued its profitable growth in 2016 despite challenging conditions in multiple market segments and world regions. The global technology group achieved sales of €8.6 billion or Rs. 63,835 crore, based on the pro-rata consolidation of joint ventures. That represents an increase of 13.5 percent compared to 2015. Freudenberg also continued its positive business development in India. "With our plan to invest in a new production facility in the city of Chennai we underline our long-term commitment to the local market and support the 'Make in India' initiative," said Dr. Mohsen Sohi, Freudenberg Group CEO, at the press conference in Bengaluru.
Freudenberg continues to grow profitably and sustainably. The implementation of strategic projects is proceeding fully in line with the company's plans. "This success is the result of the hard work and excellent performance of our more than 48,000 employees worldwide. We are on track to become one of the most innovative broadly diversified global technology groups," stated Sohi.
In India, Freudenberg's seven business groups generated sales of Rs. 1,483 crore, an improvement of 20 percent compared to the previous year. Employee numbers rose by 17 percent to 2,475 employees at around 50 locations in India – with six R&D centers and 14 production sites with state-of-the-art shop floors. This increase in sales and employees can be attributed to a large extent to the acquisition of Vibracoustic. The Business Group operates production, sales and service sites in India.
"In 2016, Freudenberg invested €8.6 million or Rs. 62 crore in India," said Georg Graf, Freudenberg Regional Representative India. "Investments were made across the board, at all Freudenberg Business Groups, in manufacturing and research facilities and equipment." Over the past five years Freudenberg has invested a total of Rs. 363 crore.
The Group plans to start the construction of a new production facility in autumn 2017, 50 kilometers to the southwest of the city of Chennai. The total investment is 15 million euros or Rs 111 crore. The site, located in the Vallam-Vadagal Industrial Park, plans to produce innovative sealing solutions for the automotive industry, among other products. The land acquired consists of more than 56,000 m² – with the capacity for further site development.