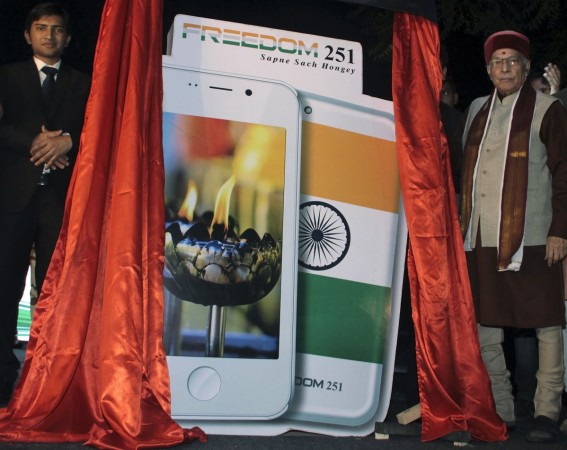 After fighting major controversies and legal obstacles, Ringing Bells confirmed on Tuesday that it will finally start delivering the Freedom 251 smartphones to its customers starting June 28. The handsets will go out to those who have registered to purchase the handset and opted for cash on delivery (COD), the company's director Mohit Goel told PTI.
Ringing Bells had launched the Freedom 251 for Rs. 251 in February and sold it through its own website. The handset's price not only made it the world's cheapest smartphone but also attracted a lot of controversy and the company came under the scanner for a potential scam. The company, time and again, denied the allegations and guaranteed that the smartphones will not only be delivered to customers but it will also make profits out of it.
In an exclusive interview with the International Business Times, India, in February, the company's president Ashok Chadha promised to deliver 5 million units by June 30. But it now appears the company is already falling behind the schedule. The company claimed that it received payments for 30,000 phones on day one and more than 7 crore people registered for it. But refunds for all the paid orders were processed due to criticism and close scrutiny from the government.
For those who are unaware, Freedom 251 seems unreal for a low price of Rs. 251. It comes with a 4.0-inch qHD (960x540p) and runs Android 5.1 Lollipop. It is powered by a 1.3GHz quad-core processor with 1GB RAM, 8GB expandable storage and a 1,450mAh battery. There are two cameras — a 3.2MP snapper on the back and a 0.3MP shooter on the front.
Industry experts estimated a smartphone with such specs must cost around Rs. 2,000. But it has been a complete mystery how Ringing Bells is keeping the cost so low. In the company's defence, Goel said that there is a foolproof plan to support the price.
The Freedom 251 is to be manufactured in Noida and Uttaranchal. Chaddha said the two plants worth Rs. 250 crore each with a production capacity of 5 lakh phones will be set up.
The government is also closely monitoring Ringing Bells, and would take action if the company failed to hold up its end of the bargain, Telecom Minister Ravi Shankar Prasad said in February. With the company's promise to deliver the phones in two weeks from now, all the mysteries will finally unfold.