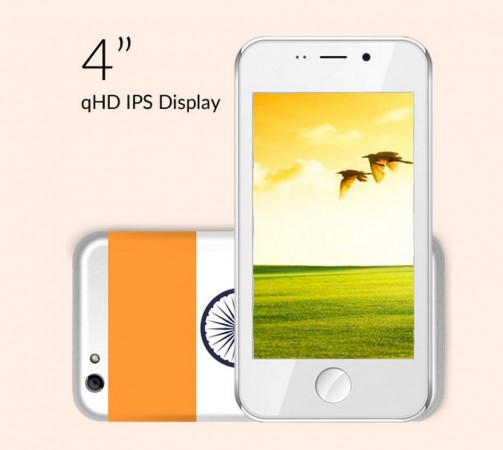 Noida-based company Ringing Bells is attracting a lot of attention from all around India for the world's cheapest smartphone — Freedom 251 — that is priced at a ridiculously low Rs 251. It's not just potential customers who are cynical about the handset's authenticity: The police and income tax officials are equally curious.
Despite all the scepticism, Mohit Goel, director of Ringing Bells, revealed another shocker during his exclusive interview with the Times of India. According to Goel, the maker of the world's cheapest smartphone will not just deliver the phones at Rs 251, but also make Rs 31 profit on every sale. Goel also expressed his disappointment over the backlash he has been getting in recent days.
"Why am I being hounded? What wrong have I done?" Goel asked during the interview. "Has there ever been a case of income-tax evasion against me or my company, or has there been an FIR filed against me in any police station? Why am I being called a 'bhagora' (one who runs away)? I intend to do valid business, just like any other start-up, and I have a business plan ready."
Goel went on to assure buyers their money would be untouched until after the delivery had been made. The company claimed it received more than 7 crore registrations on the site, but only 25 lakh bookings would be accepted online and another 25 lakh through offline distributors.
Responding to the accusations of Adcom branding and design infringements on Freedom 251, Ringing Bells' president Ashok Chadha was quick to clear the air.
"Some of the devices had the Adcom branding as we sourced the panel (screen) from them," Chadha said. "However, the final device will have our branding and the phone will have the same features and design we had showcased."
Chadha also explained the company managed to maintain the low cost of the device by opting for online sales to cut down marketing and sales expenses, economies of scale and a homegrown app ecosystem.
Goel has promised to deliver the pre-booked handsets before June 30. In an exclusive interview with International Business Times, India, Chadha said 5 million Freedom 251 units will be delivered by the promised date.
Ringing Bells has a tie-up with a supplier in Noida, where the Freedom 251 units will be assembled after the components are imported from Taiwan. The company is also planning to set up its own manufacturing factories in various locations in addition to Noida.