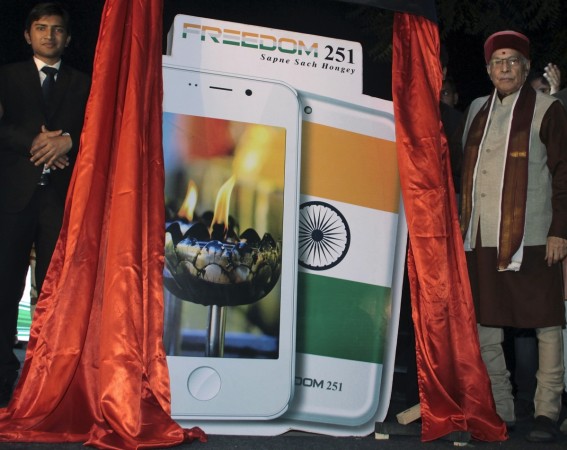 After all the euphoria as well as scepticism over the Freedom 251 mobile handset, dubbed as world's cheapest smartphone, emerging reports give a new twist to the tale. Ringing Bells, which announced to offer the most affordable smartphone, will initially import the handsets and not "Make in India" as it was initially ought to be.
Freedom 251 caught the attention of the public and people from mobile industry alike when it was announced on Feb. 17 at just Rs. 251 (less than $4). Ringing Bells, the maker of the purported smartphone, claimed that the handsets will be manufactured in India under the "Make in India" scheme, but it has turned out to be wrong.
[Read: Exclusive interview with Ringing Bells president Ashok Chaddha]
According to a report by the Hindu, a senior government official told the paper that Ringing Bells President Ashok Chaddha and promoter Mohit Goel have said during a meeting with the Department of Electronics and IT (DeitY) officials on Monday that the company is planning to initially import 2.5 million (25 lakh) Freedom 251 handsets before beginning manufacturing in India in a phase manner.
Spokesperson of Ringing Bells also confirmed that the company is importing components from Taiwan, which will be assembled at a pilot facility in Noida, UP. He went on to say that the company is planning to invest Rs. 3,500 million (Rs. 350 crore) for setting up two manufacturing plants in the next six to eight months.
[Read: Freedom 251: Ringing Bells will make Rs 31 on every unit]
Ringing Bells, which claimed to have received 60 million (six crore) registrations for its Freedom 251 smartphone, has promised to deliver five million (50 lakh) units by June 30, 2.5 million (25 lakh) handsets through online orders and an equal number of units in stores.
The Noida-based company's plan to import handsets from Taiwan came to light during its meeting with DeitY officials on Monday after Communications and IT Minister Ravi Shankar Prasad asked IT Secretary Aruna Sharma to look into the "veracity" of the project.
[Read: Freedom 251: Mobile industry raises concerns over cheap price tag]
Freedom 251 caught the attention of the people because of its cheap price tag, making many think that it could be a scam. The Indian Cellular Association (ICA) went a step ahead by writing a letter to Telecom Minister Ravi Shankar Prasad to verify the credentials of Ringing Bells, citing serious suspicion over the price of the device.
The company came under the scanner of the public from the very start after the Freedom 251 units sent to media persons for review turned out to be the Adcom Ikon 4. The device also has Adcom logo on the front being covered by a whitener and the one on the back being scratched off. However, Ashok Chaddha said that the review units were just the prototypes and not the final device.